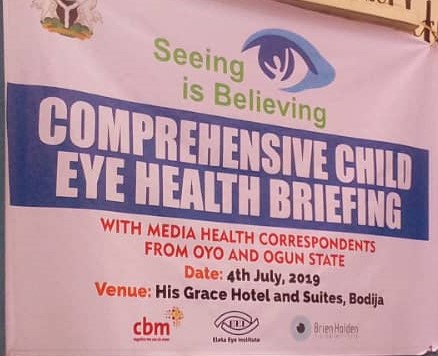 Says Eye Health is "Under-reported".
Kehinde Ayanboade,
"Seeing is Believing" (SiB), A comprehensive Eye Healthcare Programme that contributes to the reduction of avoidable visual impairment through the provision of quality eye care for children under the age of 0 – 14 years has charged media organizations to partner in giving adequate support and cooperation to the education and sensitization of the masses on the need to take proper care of their eyes which is a vital organ of the body.
The three years scheduled initiative which is been organized and implemented by Brien Holden Vision Institute and Christobel Blinden Mission with a community investment partnership with the Standard Chartered Bank and in Collaboration with International Agency for the Prevention of Blindness (IAPB) and Eleta Eye Institute raised this plead in a meeting held in ibadan to brief media correspondent of health in Oyo and Ogun state in deliberating a way of engaging members of the "fourth estate of the realm" in their medical mission.
Group Managing Director of Eleta Eye Institute  represented by Mr. Francis Arogundari in his welcome address noted that it is the responsibility of the media personnel to emphasize on sensitization of Eye care in their various states.
Arogundari who claimed that cases regarding the issues of eye care is under – reported, qualifies the eye to be a key tool of human existence.
"When we go out to to observe free screening for eye personnel, we see indigents in high numbers who needs urgent attention in terms of eyecare.
We operates in Oyo and Ogun state and we've impacted into many life's through the provision of free glasses, free surgeries, and free eyedrops to indigents, free training to teachers in special schools in the two state.
We've sometimes ago tried to engage the government and some stakeholders but our moves yielded no result until we write a proposal to standard chartered bank and they approved us.
We need your cooperation in orientating and creating awareness for people about health especially in the area of eyecare.
If children are not taking care of and left to go blind, we're not securing our future leaders." He lamented.
While giving a presentation on the function and the needs for eye care services, Representative of the Christabel Blinden Mission CBM, Mr. Clement Obayi noted that 80 percent of all Visually Impaired victims can be prevented or cured if proper care had been put in place.
Clement further explained that the initiative implements through the availability of 1 public healthcare per Local government in the "break into of 11 states" in which Oyo, Ogun and Osun state falls into the first cluster of 4.
He buttressed that people between the age of 0 – 14 who are victims of eye related issues can go for free treatment in the various public healthcare building in their municipal where they can be transferred to the secondary healthcare which are Ring Road Hospital and Eleta eye institute or to the Eleta Eye Institute which is their Tertiary Healthcare facilities in case there are critical issues.
In the same development, Chairperson of National Union of Women Journalist Oyo state chapter, Mrs. Jadesola Ajibola while presenting a paper on the "role of media on child eye health" noted that the media plays a significant role in the society by showcasing all sectors in a developing country.
Jadesola in her presentation craved the need for media to sensitize and educate the public in order to understand the importance of child eye care, to engage experts of eye related issues, and Set agenda for stakeholders especially the government to provide necessary healthcare delivery services for children.
She then arrived that the reasons why the issue of visual impairment is 'under – reported' is because journalists have created low interest in investigative journalism due to lack of funds for researches, inadequate capacity building for journalist, non – engagement of Health institutes and due to no access to data,
Giving a statistic analysis, Mr. Babatunde Odunuga from the Eleta Eye Institute while stating their achievement in Oyo and Ogun state revealed that the plan of the program initiative is to train 2,388 Health Care workers, 163 eye care specialists, and 14,105 teachers.
Also part of their objectives is the screening of over 1.5million children, provision of 27,443 spectacles and devices for children, 3,460 eye surgeries for children, and to share information on child eye health through the media.
"We just concluded the capacity building for three teachers from 2 special school, omoyeni school of Handicapped, in Oyo and Ade okubanjo school for the blind in Ogun state
We did a sensitization program at olorisa oko community, akinyele local government.
116,202 were screened to identify children who requires surgery and low vision.
We do community visit too to sensitive people in the grassroot about the importance of eye." He analyzed.
National Insight News gathered that Nigeria have 13 components of primary healthcare with eye health services excluded.