Tijani Usman, an international businessman on Thursday 30th December put  smiles on thousands of peoples faces  as he distributed food items worth mllions of Naira in Ilesa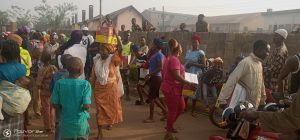 TJ as he fondly called is the chief Executive Officer of multifaceted BELTIJ Limited with offices in Nigera and other part of the World
He said the gesture which he initiated five years ago is a way of assisting the less priviledges especially the widow, aged and others in the society
According to him ' As a muslim giving is an obligation from within amd what i give is just a fraction of what God has blessed me with, secondly if i can buy shoes and clothes worth thousands of Dollars, it won't be wrong giving people such money to buy food and eat to stay alive
He maintained that apart from giving food items annually, he also hosted about children from the community on the 24th of December and and do give them stationaries as a form of educational support.
"I have been reaching out to the youths in the ilesha and part of the plan to let them make use of their strength and potentials to develop the community and not a willing tools of violence and brigandage in the hand of politicians.
" My plan is to be enaging some of them productively, by the end of January or early February, about 150 of will be engaged in mining and furniture and some will be send abroad for special training , if we have few other people that can join me in this gesture our community will be better
" I don't need to have too much to give charity, i am from Ilesha, i grew up in Onitsha and the idea is what operates in the eastern part of Nigeria they fo help eachother to grow.
When asked how poverty can be nest tackled in Nigeria TJ said " Government alone cannot tackle poverty, if they created enabling environment for busomesses to thrive and they encourage establishment of more factories and Industries than churches and mosques, there will be reduction in crime rates and poverty.
He however urged privilegde people in the society especiay Nigeraians in the Diaspora to come home and assit theirestablish companies and engage people .
Some.of the beneficiaries commended Mr Usman for his gesture and prayed for him and his household
An aged woman, who simply identified herslef as Oyebola said ' This is the third time i will benefit from thos programme two years ago i was given Rice, the same thing last year but this year i got noodles, i am grateful to tue giver, it is not the gift but the Spirit behind the giving, the person who gave us is not a politician, many of us don't even know him but will continue to pray for him