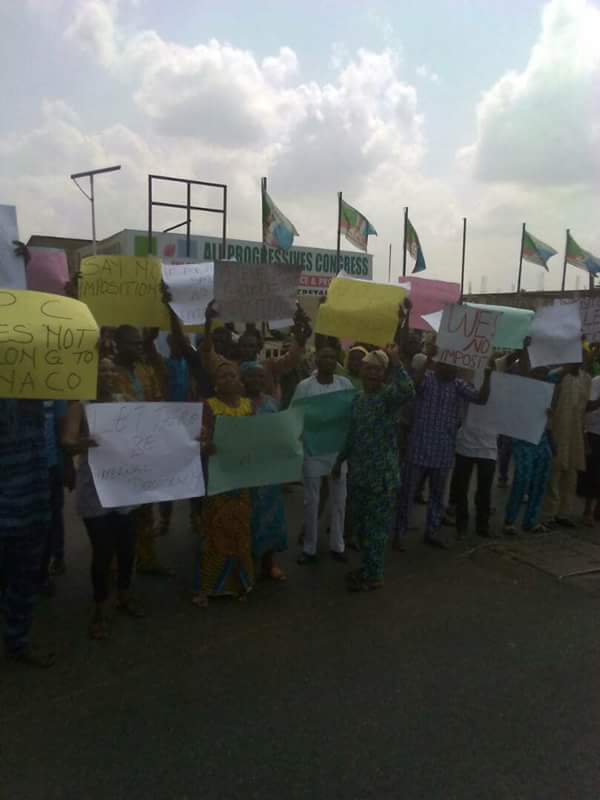 Some aggrieved members of the All Progressives Congress, APC, in Oyo State today stormed the party to protest the planned imposition of candidates for the forthcoming council election in the state.
The protesters, mainly aspirants, and their supporters who were in their hundreds, carries placards with various inscription, warning Governor Ajimobi and other party leaders to allow Democracy to thrive.
Some of the protesters whp spoke the governor on the condition of anonymity accused the governor and some of his aides of imposing candidate for local government chairmen
They also warn the governor to desists from fanning embers of division among the party members and allow internal democracy to thrive in the party
It would be recalled that the party is divided between two groups called Lamists and SENACO. Lamists is a group of loyalists to former late governor of Oyo state Alhaji Lam Adesina while SENACO is SenatorAbiola Ajimobi Campaign Organization.
The Executive Assistant to Governor Ajimobi on political matters Barrister Morohunkola Thomas while reacting to the development said " The so called protest which fizzled out within minutes must have been packaged by politicians who where over-fed by the system but who because of their disloyalty and morbid ambition have turned themselves into dissents, they are trying to preempt democratic process, that has not started but which they know they stand no reasonable stand of winning"
He said further that" The party elders are deliberating on how to make use of the consensus approach in selecting local government election candidates in line with Article 20 of APC constitution october 2014 as amended, Nothing more has been done, this elements must be dismissed and not accorded any recognition"