Ile- ife is an important city in the history of Yoruba race and Nigeria, apart from being the cradle of humanity, the ancient town is also a paragon of historical monument and artifacts as well as embodiment of undiluted practice Africa culture and tradition.
The ancient community which is being ruled by a cosmopolitan, tourism inclined traditional Oba Adeyeye Eniitan Ogunwusi, Ooni Ojaja 11  is regaining its consciousness in utilizing the potentials in the town to attracts visitors  for socio-economic development of the town and its environment
Domestic tourism is one of the great source economic development in the world and it's money spinning and Ooni Ojaja is not leaving any stone un turn in involving the stakeholders in promoting Yoruba tradition and culture as well as boosting domestic tourism in ile-ife and Osun state at large and to an extent, he has been able to reawaken the consciousness of the indigenous people on the need to grow the business of tourism in Ile-ife
Besides raising the consciousness of the people, the monarch has also been able to plant an ethno cultural and multipurpose resort of international standard in ile –ife with the focus of creating an   environment with an ambience for relaxation, promotion of Yoruba Culture and Tradition as well as creating a home for Africans in the diaspora where they can learn about their past and connect it with the present. Obviously the resort offers more than leisure.
Oba Ogunwusi,  while speaking with set of Tour Operators , Travel Agencies and Travel Bloggers who were in ile ife on a tour of  the resort facilities and  tourists attractions in Ife and its environs said , his intention is to build the biggest resort in Africa, which will not only be for leisure but  be a  home where Yoruba culture and tradition will be taught and promoted "  I love tourism, the vision I have for the resort is to have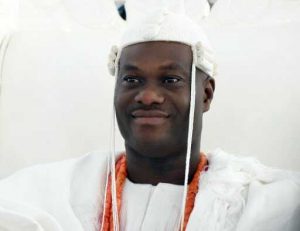 pose resort with  about 250 rooms, that can accommodate many people as well as a platform for cultural exchange and development".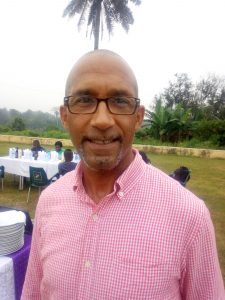 The foremost African King said further that " I am happy that  domestic tourism is developing in Nigeria, in spite of the infrastructural challenges, we are progressing and I am sure we will get there soon" He said.
Reuben Abib General Manager, Ile Ife Grand Resort  and Leisure while  conducting our reporter round the resort said "The  resort  is all about pan Yoruba, it's all about the history and about the future of Yoruba,  my theme actually is come home to visit Ife grand resort, where your future meet with the past, what we mean by that is there is a lot of history  about ile ife as primary source of all Yoruba people, our mission really is to continue to promote Yoruba culture, to continue to promote Yoruba unity and continue to promote  power  and importance of Ooni and the interesting thing  about our tourism product  unlike many tourism in Africa   that are   predicated on slavery , predicated on natural resources , ours is predicated on living breathing  tribal history and people, its  more  about yesterday, what we are  doing today and what we can do together tomorrow.
The Canadian born tourism expert  with decades of experience in the field   also disclosed that the resort offer best services and threat guests like a king, " our guest are special,  we don't want them to just come here and relax in a  cool environment alone, but to establish an impression that they are in another secured  home away from their home"
Apart from the excellence services we rendered at the resort, we are also working on exposing and promoting tourism business in Ile Ife, the ancient community is endowed with a lot of potentials , there is over 400 sacred sites in ife and about 200 are open for the  public, some  towns and city around ife  also have tourists attraction and the resort is synergizing with tour operators and other stakeholder to make  our resort a destination where people can actually resides and move  to other sites around"
I came here six month ago  and since I came ,  I have been focusing on  upgrading the resort and   turning it to a world  standard  to be attractive to a client and , we plan this farm trip for   travel bloggers, operators , travel agencies to see what Ile Ife Grand resorts have to offer and the area  around ife and some of the exciting locations and interesting site to see  and this is the beginning of the business
Some of the tour operators  who were part of the fam trip  lauded the management of the resort for initiating the idea and express optimism the resort when completed will be one of the best in the world .Hammid Bakare, a tour operator with Access Africa one of the tour operator on the trip said " Ife Grand resort is another world on its own, yet untapped though, the landscape, the scenery, the ambience is cool, you need  to come here to pay a visit before you can experience it and  for you to come to a place where the sun rises and set on the same spot, its  unimaginable, its golden its cool , the room is pallacious, the food the people and  everything, this place is good for vacate, in spite of the fact that this place is still under construction, you can still have all of this in place, you can imagine if its fully completed, how will it be it would be a heaven, I cant wait to even come back when its fully completed   to come and have the experience of the same experience I have been having which I believe will be  more, the village, the reception, the sport facilities  and the mother nature"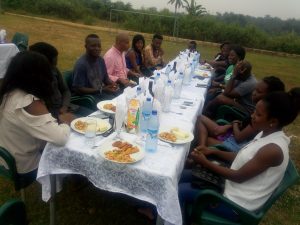 Also, Adedamola Idowu of Irinajo.com in his own view said " Ife Grand resort is a work in progress that I we are proud to be partners with, of course, looking at the final structure, it  would be a destination that  a lot of people would want to come to,   yeah I have notice a few challenges but when the work is completely done, a lot of people from all over the world will want to come here because we don't have a many resort like this around"
Speaking on forming a synergy with the  resort, Damola said  " Resort owners should always look forward to partner with  tour operators  and travel agencies, you cannot do it on your own, success is a collaborative effort, and you need to get in torch with the drivers on tourism sectors, because reviews, recommendations go a long way to ensure that people patronize what you are putting together, so a fantastic open relationship with tour operators is something that is advisable  which Ife grand resort has started already .
He  advised the management to keep working to actualize the dream of the owner of the resort, the accommodation is coming into fruition and every other facilities  that will make it a full blown resort should also be worked on, presently its not bad, if they are operating at 50 percent capacity with what we can see here  apparently when it get to like 90 percent , they whole world will wanna come here, they should just keep on the good work.
During the trip, the invited tour operators and travel writers visited, Moremi Statue in Ile Ife, Opa Oranmiyan, Ile Orunmila, Oke Itase, Palace of Ooni, Martin Aworinlewo, Odeyemi museum of Antiquities and contemporary African Art, University of Ife,  Osun osogbo sacred groove as well as Olumirin Water fall in Erin Ijesha.