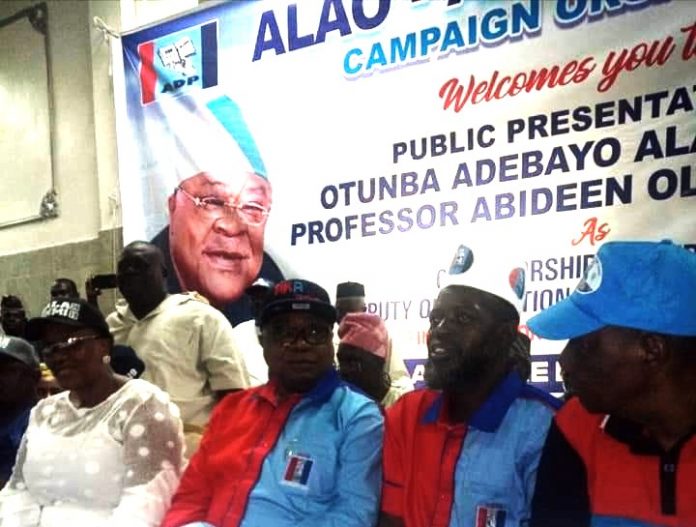 Action Democratic Party ADP gubernatorial candidate in Oyo state, Otunba Adebayo Alao Akala has said 90% of the outgoing government's policies  programmes and projects are best described as anti people which leaves  people in pains and despondency.
The former governor in a speech delivered at the unveiling of candidates and inauguration of his campaign organization in Ibadan said  " instead of criticizing Ajimobi, I made myself available to guide the incumbent  government on how best to run proactive and pro-people  governance but the  driver lacks  the required goodwill. Today,the Agriculture and environment, have been either neglected or bastardized, Oyo state is in a serious mess."  He said
Speaking on  why he want to govern the state again, the ogbomoso born politician said  " As a bonafide  citizen, I'm  seeking  another opportunity to govern the state from May 29, 2019 with a  RESCUE MISSION to reposition the state  for the betterment of our people and the in governance, i am offering myself again to serve the good people of Oyo state because I am healthily and mentally fit for the rigorous tasks of governance."
He said further that he is determined to initiate and implement policies  and programs that would  transform the state, improve the welfare of the residents and create an environment conducive  to business growth and security as well as wealth and employment creations
" We are passionate about delivering results, results that have  positive impacts on mankind. In fact, I must say that the reelection of the present administration was an aberration that came by way of bandwagon effect that followed the election of President Muhammadu Buhari."
He also raised an alarm over the plan by the All Progressives Congress APC  and some  members of staff of Independent Electoral Commission  INEC to disenfranchises thousands of people and weaken leading opposition candidates in their strongholds.
According to him they intend to engage in state-wide illegal relocation of voters from their Units/local government of origins to other units/LGAs.
He however call on the INEC Chairman and security agencies to stop the advanced rigging method
" Regardless of the sinister moves by other parties, our campaign shall be issue- and based , violence –free, intellectually stimulating , resting on the  renewed  13 points  agenda drawn  from our party's hallmarks:  All these clothed in peace and tranquility.
While admonishing the  campaign committee under the leadership of Mr. Wale Ohu, Otunba Akala said " The committee should run campaign with open mindedness , unity of purpose  and be receptive to good ideas . You should adopt the team work as a virtue . Above all,you are requested to be loyal to this cause, show accountability and carry out the work with fear of God