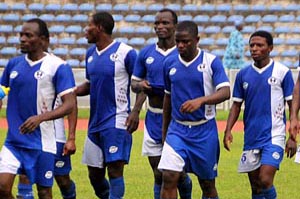 The Chairman of Shooting Stars Football Club (3Sc), Mr. Gbolagade Busari has reassured the teeming fans of the club that the team will bounce back from its not too impressive performance in the ongoing professional league.
The chairman of the club made this assurance in a statement in Ibadan on Monday.
Busari said that hope is not lost as the season has just started, saying that they will start getting better results and live up to the expectations of the fans.  
According to the 3SC Chairman, "we are not happy with standing of our darling team. The results we got in recent matches have not justified our efforts to reposition the team. However, hope is not lost as we are ready to change the tide and get good results."
He noted that the management of the club has identified the problems of the team, stressing that adequate measures are being put in place in order not to disappoint the fans, supporters and well-wishers of the club.
He promised that the team will be rejuvenated for the remainder of the season, adding that the club is targeting continental ticket for the next season.
"We have a mandate from Governor Abiola Ajimobi and we will not disappoint the trust he has in us. The governor said the team should reclaim its lost glory and compete as a premier team it used to be. This mandate is our motivation and it will drive us to success. We want to appeal to our fans not to lose hope in us, they should believe in us and we will make them and the state proud at the end of the season," Mr. Busari explained.