The Chief Executive Officer Toyola Energy Services Limited Mr Toyin Ologburo  has been commended for donating 25million worth of Solar Powered Electricity for the ministry of Environment and natural Resources office complex,Ibadan.
Toyin Ologburo, a world bank consultant and inventor also installed the electricity for free.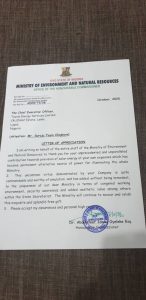 The Ministry in a letter thank signed by the commissioned Dr Idowu Oyeleke, thanks Ologburo for his unprecedented and unparalleled contribution towards provision of solar energy at his own expenses for the ministry
Oyeleke the commissioner in a letter said the energy has become permanent alternative source of power for illuminating the whole Ministry.
According to him, "This uncommon virtue demonstrated by your Company is quite commendable and worthy of emulation and has added, without being immodest, to the uniqueness of our dear Ministry in terms of congenial working environment, security awareness and added aesthetic value among others within the State Secretariat. The Ministry will continue to savour and relish"