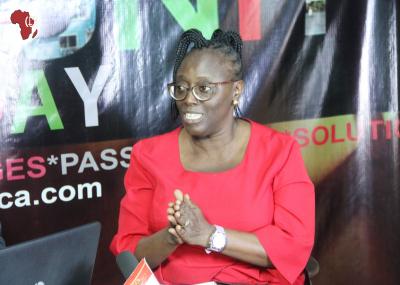 In the light of rising unemployment and the current economic recession in Nigeria, policy-makers and stakeholders have consistently reiterated the need for the younger generation to take up entrepreneurship as a means of livelihood rather than wait around for non-existent white-collar jobs.
The Director of Centre for Entrepreneurship and Innovation (CEI), University of Ibadan, Professor Ayotola Aremu has however revealed that there is more to entrepreneurship than simply establishing a business as a means of livelihood. She noted that entrepreneurship is more than setting up a venture in an over-saturated enterprise or simply engaging in buying and selling.
Speaking at an interview with CEOAfrica on its onlinetelevision programmeCommunity Today, on Thursday 10th August 2017, the Professor of Educational Technology, Department of Science and Technology Education, at the University of Ibadan explained that entrepreneurship entails identifying an opportunity, recognising a gap, spotting a societal need and then providing solutions which can be built as a business.
According to Prof Aremu, "an entrepreneur is somebody that identifies opportunities, identifies gaps in the society, depending on the person's inclinations, interests and finds solutions to those gaps. So, the key things there are; the person sees opportunities, spots some gaps and has the skills to provide solutions to those opportunities by building it into a business that will make profits."
Prof Aremu explained that a lot of young people in their bid to be self-employed and start up their own independent businesses, find themselves venturing into industries that are already over-crowded which may in the long run affect the profitability of such business. She stated that rather than blindly establishing a business, it is important for young start-ups to first identify a need they can meet or a gap they can fill in their areas of interest which will be innovative and unique.
"A lot of young people go into businesses like; fashion, make-up and others. Some of these ventures are already over-saturated with practitioners. Instead of doing what others are doing, you can do something different and innovative in your area of interest. If you are interested in fashion designing, rather than going into the conventional fashion, you can chose to make uniforms. If you are a mechanic, you can rise above the conventional roadside mechanic by doing something different and more innovative in your field," she stressed.
Prof Aremu blamed the lack of entrepreneurial insight among youths on the nature of Nigerian educational system which according to her makes little or no provision for teaching entrepreneurial skills. She noted that many youths graduate from schools are only armed with employable skills and not entrepreneurial skills – a norm which is only flooding the labour market with job seekers who are searching for non-existent employments.
She explained "The university system was initially established to train