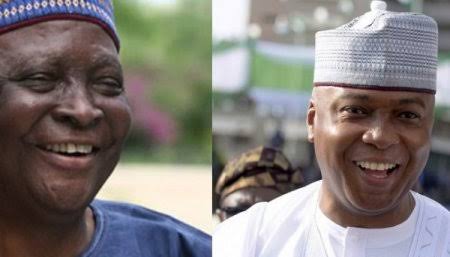 In the late seventies an erudite Professor of Botany, Dr. Sanya Onabamiro captivated readers of a national newspaper with his series of articles.
One of such series was titled 'DISAPOINTING SONS OF GREAT FATHERS AND GREATER SONS OF GREAT FATHERS'. He gave copious examples of both.
Today Dr. Bukola Saraki, the Senate President can aptly be described as the 'Greater Son of a Great Father'. His late father, an ebullient politician of the Second Republic climbed the legislative ladder to reach the position of Senate Leader.
At the height of his political exploits the elder Saraki bestrode the national political landscape like a colossus and made the entire Kwara (and Kogi) states proud with the kind of leadership he offered them. The two states of Kwara and Kogi were one state when the elder Saraki held sway in that area.
Whenever and wherever the name of Dr. Sola Saraki was mentioned in the old Kwara State his legendary generosity came to the fore. He endeared himself to the people whose weal and welfare were paramount to his heart. His election to the Senate of the Federal Republic in 1979 was therefore a matter of course.
During the political campaigns of 1978 Dr. Sola Saraki displayed an excellent mastery of the game such that he not only delivered Kwara (then Kogi and Kwara States) to his party NPN on a platter of gold his tremendous influence in national politics also helped in no small measure to win support for his party in many other parts of the country.
Thus when the Senate of the Second Republic was inaugurated, the position of the powerful and influential Senate Leader naturally went to him. He discharged himself creditably thereafter before the Buhari-led military coup of 1983 put paid to his legislative exploits in the Upper House.
However, while Dr. Sola Saraki was making his foray into the realm of national politics he was grooming his son Bukola for leadership positions. The son quickly mastered the ropes and later became the Governor of Kwara State, a position where he meritorious ly served for eight years.
Like father like son, the young but highly cerebral Bukola soon got elected into the Senate where he immediately started creating waves. Now, as President of Senate, Bukola can aptly be described as the 'Greater Son of a Great Father'.
Dr. Bukola Saraki has now joined the presidential race and many factors have now combined to place him above his Co – contenders and these include sound education, political and family pedigrees and, above all the current universal clamour for youth ascension to national leadership.
Written By Elder Moses Olorode