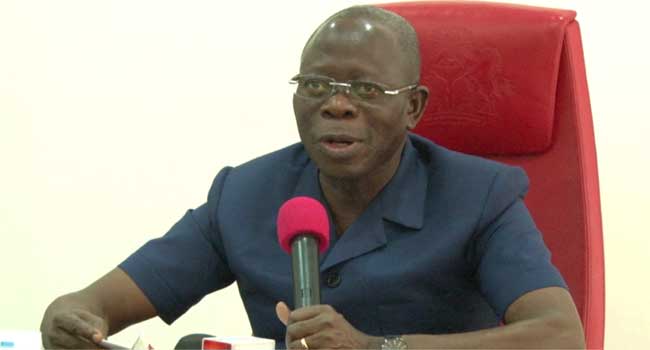 A Member of the Nigerian Youth Parliament, Hon Adetayo Abimbola Adekunle has called on the All Progressives Congress to drastically reduce the cost of its expression of interest and nomination forms.
Adekunle, who is also a House of Assembly aspirant on the platform of the party in Oyo State, made this appeal in a letter addressed to the National Chairman of the All Progressives Congress, Comrade Adams Oshiomohle.
The letter which was also copied to President Muhammadu Buhari, Vice President Yemi Osinbajo and Asiwaju Bola Ahmed Tinubu was exclusively obtained by our correspondent.
In the said letter, Adekunle asserts that he is of the firm belief that the APC ought to be at the vanguard of youth inclusion in governance and decision making.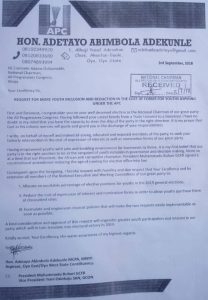 The full text of the letter is published below:
HE Comrade Adams Oshiomohle,
National Chairman,
All Progressives Congress,
Abuja.
Your Excellency Sir,
REQUEST FOR MORE YOUTH INCLUSION AND REDUCTION IN THE COST OF FORMS FOR YOUTHS ASPIRING UNDER THE APC
1. First and foremost, I congratulate you on your well deserved election as the National Chairman of our great party – the All Progressives Congress. Having followed your career keenly from a Trade Unionist to a Governor, I have no doubt in my mind that you have the capacity to steer the ship of the party in the right direction. It is my prayer that God in His infinite mercies will guide and guard you in the discharge of your responsibilities.
2. I write, on behalf of myself and indeed all young, educated and exposed members of the party, to seek your fatherly intervention in the cost of expression of interest as well as nomination forms of our great party.
3. Having empowered youths with jobs and enabling environment for businesses to thrive, it is my firm belief that our party is in the right position to be at the vanguard of youth inclusion in governance and decision making. More so at a time that our President, the African anti corruption champion, President Muhammadu Buhari GCFR signed a constitutional amendment reducing the age of running for elective office into law.
4. Consequent upon the foregoing, I hereby request with humility and due respect that Your Excellency and by extension all members of the National Executive and Working Committees of our great party to:
I. Allocate an equitable percentage of elective positions for youths in the 2019 general elections.
II. Reduce the cost of expression of interest and nomination forms in order to allow youths purchase them at discounted rates.
III. Formulate and implement clearcut policies that will make the two requests easily implementable as soon as possible.
5. A kind consideration and approval of this request will engender greater youth participation and interest in our party which will in turn translate into electoral victory in 2019.
6. Kindly accept, Your Excellency, the warm assurances of my highest regards.
Yours Faithfully,
Hon. Adetayo Abimbola Adekunle MCPA, MNYP.
Aspirant, Oyo East/Oyo West State Constituency.
CC: President Muhammadu Buhari GCFR
Vice President Yemi Osinbajo SAN, GCON.
Asiwaju Bola Ahmed Tinubu (APC National Leader)