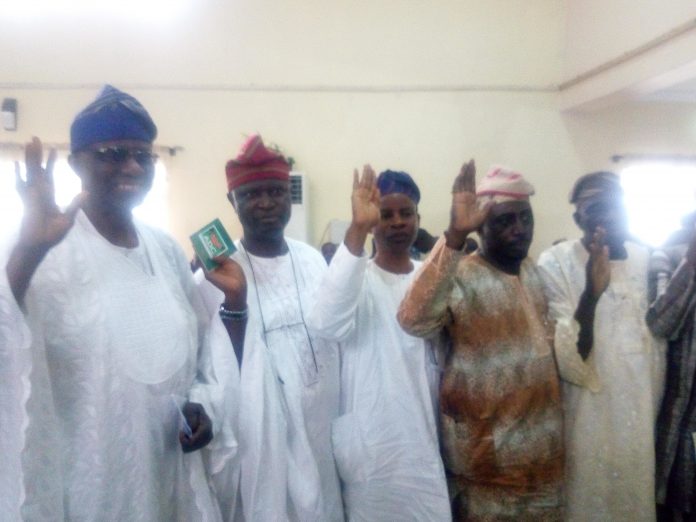 Members of Unity Forum, the breakaway faction of the Oyo State chapter of the All Progressives Congress, APC, who joined the African Democratic Congress, ADC, have described the chairman of the Interim Committee that midwifed the botched congresses,  Dr. Femi Majekodunmi, as a pathological liar and somebody without integrity.
The group, in a statement by its secretary, Dr Wasiu Olatubosun said it was unfortunate that Majekodunmi allowed himself to be used to disrupt the peace in the ADC, adding that history will not remember him for good.
Olatubosun accused Majekodunmi of being used to scuttle the plan of the ADC to send the ruling APC packing in the forthcoming election.
"Before any state congress, there should be a valid list of delegates who are going to decide on behalf of their people. There was nothing like this. Only 5 local government areas were ready with their list.  There was no appeal committee. How can you do something like that without appeal committee.
"It is so unfortunate that Majekodunmi is reminding us of the event of the past. If not, why would someone who admitted wrongdoings in a meeting he did with us three days ago will now turn around to say another thing. In a meeting he held with us at the residence of Dr Busari Adebisi, he admitted that they didn't use delegate list  but discretion. Are we using discretionary Excos?
Asking him to justify how he inaugurated the Excos that emerged without congress, Olatubosun said "anybody without integrity won't mind doing something like this."
"If he wants to deny that those people emerged through congress as they have claimed, they should present the ballot papers, the results and if it through affirmation, let's see names of those who agreed to it."
Olatubosun said he was not surprised as it was a Majekodunmi that was used to remove the late Premier Obafemi Awolowo during the First Republic.
He alleged that Majekodunmi is being used to destroy Oyo State, asking why only people loyal to Ladoja got all the major positions.
"Why is that only Ladoja group got all the major positions. The chairman, secretary, organizing secretary, treasurer, youth leader and publicity secretary are all loyalists of Ladoja. If truly Unity Forum agreed to harmonisation, he should show us what we are given in the Excos. It is so unfortunate. And we will not sit and watch while our future is being trampled upon," he added