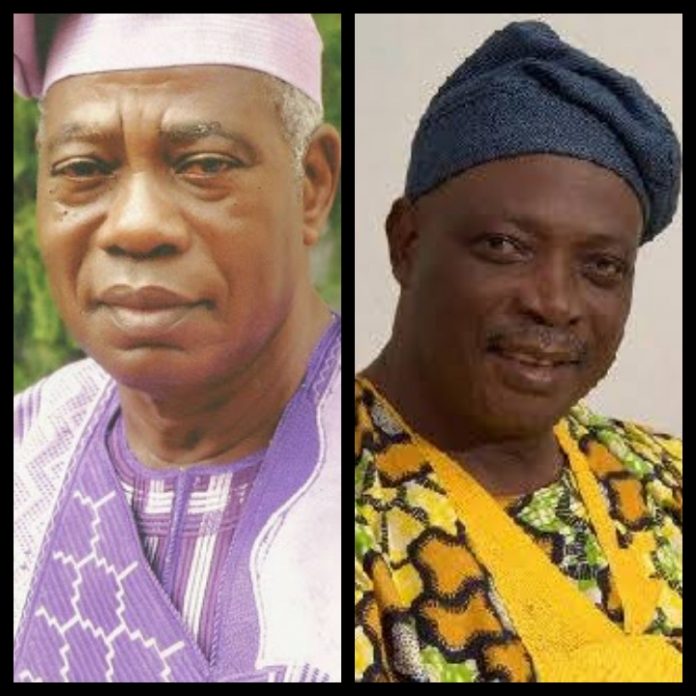 Senator Rashidi Ladoja a former governor of Oyo state and chief Micheal Koleosho has been urged not to destabilize the Africa Democratic Congress ADC with their self serving attitude and imposition of party executives .
This was contain in a press statement made available to newsmen by a group within the ADC known as Frontline Solidarity movement.
The statement which was signed by the group Chairman Alhaji Karimu Iyiola berated the two elder statesmen for allegedly perfecting the plans to usurp the machinery of the party without following due democratic due process.
The group noted that who Senator Ladoja left the Peoples Democratic Party PDP because he was not allowed to have his way, has concluded plans to impose his stalwarts as the state executives of the Africa Democratic Congress ,
FSM also alleged that Senator Ladoja is working with Chief Koleosho a former Secretary to the Oyo state government, who himself has lost political relevance in the Oke Ogun region to impose their will on the people, particularly against the members of the unity forum.
They further observed that a situation where a few people will sit down in the corner of a room in the name of elders, to impose their will on majority will not be tolerated in the Africa Democratic Congress, ADC.
They maintained that if they intend to install their stogies as the executives of the party following lay down procedures, there will be nothing to complain about, but to attempt to impose party executives on the rest of us who are obviously in the majority, he said will be met with vehement resistance by the frontline Solidarity Movement.
The group said they will explore all necessary means within the law to ensure that Senator Rashidi Ladoja and Chief Michael Koleosho does not impose their 'Yesmen' on the party.
Alhaji Karimu called on the national Chairman of the party Okey Nwosu and other party well meaning leaders of the Africa Democratic Congress to not allow the culture of impunity, imposition and godfatherism which this supposed leaders have exhibited in the past and has achieved for them little or no result to hold sway in ADC.
The group said it is unfortunate, that Senator Rashidi Ladoja and Chief Michael Koleosho who should be exemplary in their political conducts, continue to work against the dictates of simple democratic principles.
Senator Ladoja and Chief Koleosho not should be advised not to have an exaggerated impression of their electoral worth, as it is obvious that they are living in last glory, Iyiola stressed that the Oyo state ADC will win the coming elections with or without the likes of Senator Ladoja and Koleosho.The
The group also commended some of the leaders of the party who strongly opposed the attempt of Senator Ladoja and Chief Michael Koleosho, by ensuring that the proposed state Congress where they intended to foist their undemocratic decision on the party, was postponed.