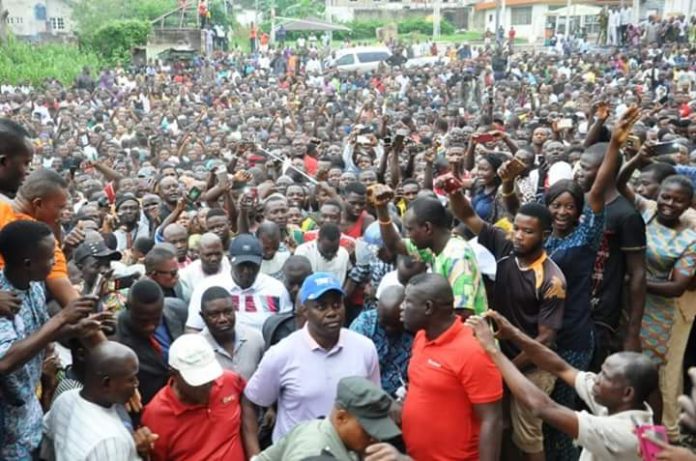 Tungba Music Crooner Dr.Yinka Ayefele the owner of Music House has cautions fans and sympathizers against any act of violence in protest against the demolition of part of the music house in Ibadan.
Oyo state government in the early hours of Sunday demolished part of the N800million music house few days after the demolition notice was served.
The government claims that the building contravenes planing law of Oyo state
Ayefele's counsel, Olayinka Bolanle, in an exparte motion filed before the court, sought for an order of the court restraining the state government from demolishing the property pending the determination of the suit.
Mr Bolanle also stated that due process was followed in the construction of the structure while relevant approvals were obtained from the state's departments and agencies associated with land and housing.
Justice I. Yerima ordered the claimant to ensure service of the court process on the respondent and adjourned the case till Monday for the hearing of the exparte motion.
Some of the angry fans were already protesting and chanting anti government song, they also destroy bilboard of an APC gubernatorial aspirants Olasunkanmi Tegbe who is rumoured to be Ajimobi's anointed candidate.
In a short broadcast on sunday afternoon, the Ipoti Ekiti music icon said call for calm. "If you trully loves Yinka Ayefele, please don't engage in any form of violence because of what happened."
" If the music house is pull down Fresh F.M continues, since we didn't go against the law and ethics of media practices and we didn't abuse government, let us leave the rest for God he will handle the situation."
"Please dont destroy government properties espcially the Ajumose bus parked in front of the music house, they knew why they put it there please dont torch it, let it be."
He thanked Oyo state government , particularly the state commssioner for information , culture and tourism for masterminding the the plot against fresh F.M. The music house may be leveled buy Fresh Fm continues." he said
Ayefele however urge Fresh FM's staff not to be dettered by what happened but summon courage and move on."
Some of the earlier caller at the music house includes Engineer Seyi Makinde gubernatorial aspirant of the peoples Democratic Party, PDP, Hon Dapo Lam Adesina, Member of the National Assembly representing Ibadan South East/North East Federal constituency.
Othets were, Hon Segun Olaleye, radial brothers, Hon Wasiu Olatubosun secretary Unity forum a splinter group of APC in Oyo state among other
No matter how pained i may have  over any situation i will rather commit that person into God for his judgement. don't be annoyed.
Everything has reasons it has a purpose, God has reasona for everything , let me thank Oyo state government, i really appreciate you , thank you for you love and support, i never envisaged where you take ne
" I thank Toye Arulogun, he started this issue and he succeeded.