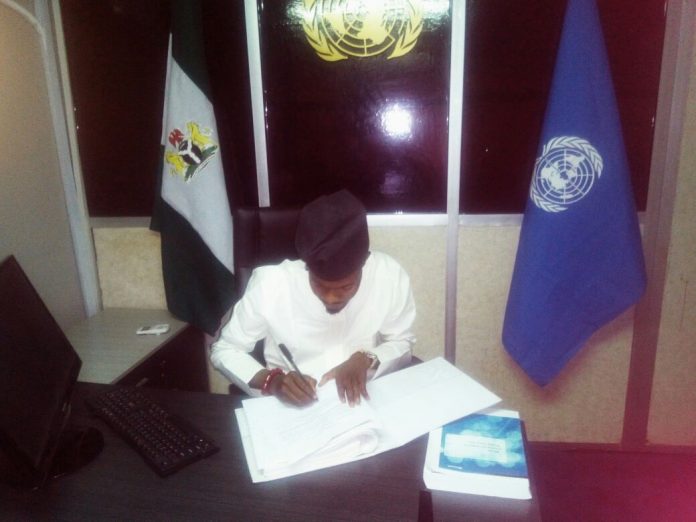 As part of his first assignment in office as the President General of the World Youth Organisation (WYO), Ambassador Adeniyi Matthew has signed a Memorandum of Understanding (MoU) with notable international organisations with the aim of creating 60 million job opportunities for unemployed youths globally.
Ambassador Matthew, who received a team of international organisations, led by Mr. Guy Ryder, the Director General of International Labour Organisation (ILO) in his office at Geneva, Switzerland, noted that he got the statistics of 620 million unemployed youths across the globe, which he said, has been given him headache before he assumed office.
According to a press statement issued by his spokesperson, Adeola Badru, Amb. Adeniyi was resolute and remained committed to the course of youths globally and also poised to take firm measures to reduce poverty, unemployment, social vices, sickness, disability or death arising in the course of employment.
He equally used the medium to appeal passionately to numerous world organizations to join hands with him in his quest at eradicating poverty among youths across the world.
Earlier in his address, the Director General of International Labour Organisation (ILO), Mr. Guy Ryder expressed appreciation to Amb. Adeniyi for his thoughtfulness in embarking on projects that would give face lift to the well being of youths globally, adding that
his organisation would work in tandem with his office in achieving the 2030 United Nations Sustainable Development Goals on youth empowerment.
On the entourage of ILO to Amb. Adeniyi's office include Bank for International Settlements (BIS) European Central Bank (ECB) and Food and Agriculture Organisation (FAO) of the United Nations.