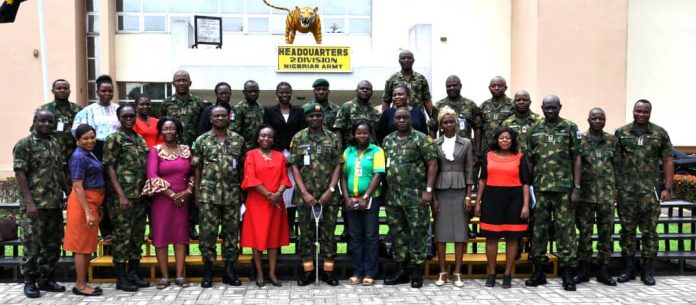 The General Officer in Command 2 Division Nigerian Army. Major General Anthony Omozoje on Monday said the command operates on the basis of law which allows female colleagues to pursue higher rank in their career.
Major Omozoje while receiving members of the Nigerian Association of Women Journalists, Oyo State ( NAWOJ) at Odogbo Barracks in Ibadan, mentioned that the command prioritized the
issue of protecting the interest of women and children of thier officers.
The Army Boss said, "Contrary to the general belief that women in uniform are limited to get to the peak in their career, opportunities are open for our women to attain any post, they are no longer tagged second class citizens in the army. A female colleague can become a commandant, and I believe that one day, a woman will become the G.O.C of this division".
Major Omozoje who noted that the command gives special provision and attention to wives of officers in service, widows and children of the deceased colleagues, added that there is a group life assurance cover, ensuring the protection of the officers immediate families.
Speaking on the standard of the Nigerian Army Schools, the General stated that though the school has produced many big wigs in the society, nevertheless, the command will work towards improving the quantity and standard of the schools
Commending the effort of the association in ensuring that women are given the freedom to be heard, the Army Boss said" We are aware you hold gender issues very dearly, and for us in the army, these are key issues that needs to be given top priority".
Oyo NAWOJ Chairperson, Com. Jadesola Ajibola, in her opening speech said the issue of insecurity concerns everyone, noting that no woman can afford to loose her husband or any of her children to the hand of the terriorist.
Com. Jadesola who mentioned some of the projects carried out by the women wing in the state, seeked for a partnership between the command and the association to continually educate the masses especially women and children on how to become the best they can be.
Some of the officers on ground are" Brig Gen M.J Magit, Brig Gen Soycle, Brig Gen Adanogu, Brig Gen Aliyu, Col Adamu, Major F. O Oloyede, among others.