The caretaker Chairman Ogbomoso Central LCDA Mr Seun Adeyinka has said that the council will maximize the culture and tourism potentials in the historical city  of Ogbomoso for promotion of unity and economic benefits.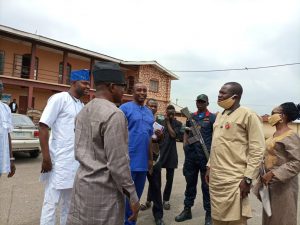 Adeyinka disclosed this while recieving Special Adviser to Governor Seyi Makinde on Culture ans Tourism, Hon Akeem Ademola Ige in Ogbomoso.
Hon Ige and his team were on the spot assessment of tourism sites in Oke Ogun and Ogbomoso axis of the state.
Adeyinka who took the team to Ogun Ojalu, a spot where a king buried two of his children alive as a sacrifice to prevent ogbomoso from being captured by external  invaders, Soun of Ogbomoso palace, warriors Arcade  at Oja Igbo others said the ancient town is endowed with a lot of historical tourism site.
He said " The steps taken by the state government to make tourism a tool for economic development and job creation in the state is a right step that will engender development and rapid growth of the state"
" We spend thousands of Dollars visiting other country and developing their economy through tourism, we must do our own too and i am happy yhis is coming from his Excellency Gov Seyi Makinde'
In his remark Hon Ige said the rationale behind the tour is to promote domestic tourism in Oyo state, " His Excellency Gov Seyi Makinde's is interested in attracting more traffic and economic development to the state through tourism and that is why he mandated us to embark on on the spot Assesement and we are glad that you are also informed and prepared for the tasks ahead
" The historical sites in Ogbomoso are enormous and i want to urge you to ensure a proper documentation of all the sites as well as make effort in sensitizing the public about the import of tourism not only for leisure but income generation for the council