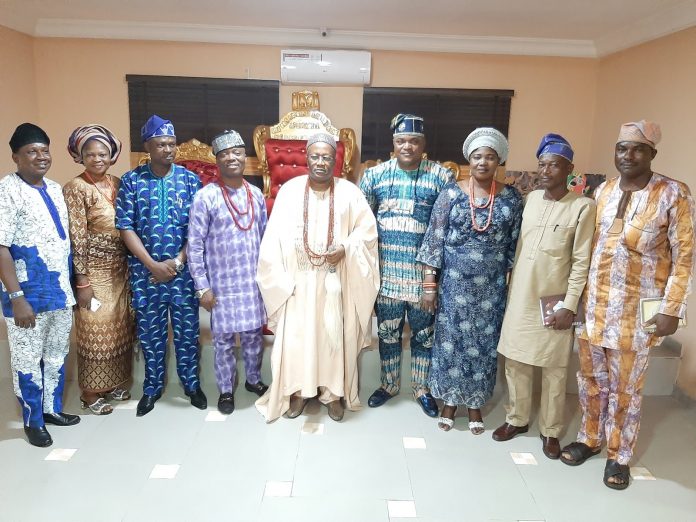 The Chairman, Ekiti State Council of Traditional Rulers, Oba Adebanji Ajibade Alabi, the Alawe of Ilawe Ekiti has promised to amplify and reinforce the cultural and value reorientation  policy of Dr John Kayode Fayemi as well as collaborate with Ekiti State Council for Arts and Culture in its strides at promoting the cultural values of the State.
The Alawe who made this promise while playing host to the delegation of Ekiti State Council for Arts and Culture led by Ambassador Wale Ojo lanre in his palace in Ilawe described the second coming of Dr Fayemi as the Governor of Ekiti as messianic, timely and a preparatory providence aimed at luring Ekiti State back to the path of cultural rejuvenation and value resuscitation.
 Oba Ajibade Alabi decried the rate at which the pristine Ekiti culture was being bastardised by those who are supposed to be flag bearers under the pretext of religiosity, rummaged by the present generation under the dose of globalization, vogue and civilization and exploited by the European for the enrichment and economic development of their countries.
He called on Ekiti indigenes both home and abroad to embrace, participate and brand the cultural festivals in their towns not only for entertainment but also as a means to stimulate wealth, tourism, development and harmonious cohabitation.
The Alawe said "If we are not careful, we the Yoruba will be imported back to this country our own festivals, culture, ethics and value after we must have allowed it to perish and after which the Europeans who are preserving them now will  sell it back to us "
He recalled his experience in the Caribbean countries where he  served as a career diplomat how festivals like Ogun, Sango, Osun, were being venerated, enhanced, branded and celebrated with pomp and grand ceremonies but which 'we the owners of these festivals are wishing them to go into oblivion "
The Chairman of Ekiti Council of Traditional Rulers said "It is on this and other notes that I appreciate the conscious and determined efforts of Dr Kayode Fayemi's policy of value reorientation  and  cultural rejuvenation "
Earlier, the Director – General, Ambassador Ojo – Lanre congratulated the Alawe of Ilawe for his emergence as the Chairman, Ekiti State Council of Traditional Rulers and thanked him for his promise to engage and collaborate with Ekiti State Council for Arts and Culture.
In appreciating the Chairman of Obas Council in Ekiti, Permanent Secretary, Ekiti State Council for Arts and Culture, Alhaji Ganiyu Titilope Ibrahim described Alawe as a cosmopolitan traditional father whose the wealth of experience in the diplomatic circle and his vast global peregrination will be inestimable value added to Ekiti state cultural and traditional development.
He informed that the Ekiti State Council of Arts and Culture would be paying another visit to the Council of Traditional rulers in respect of the incoming Ekiti State Arts and Cultural Expo, EKIFEST, scheduled for the month of December 2019.