Adamu Garba is ICT expert, he is the founder of IPI  Solutions, one of the best ICT company in Africa, The 35 year old Microsoft Certified Solution Expert is determined to rule Nigeria, in this interview  he spoke extensively  about the challenges being faced by Nigerians and gave an insight into how he will make Nigeria work.
Lets have an insight into your background
My name is Adamu Garba, I work for IPI Solution Nigeria Limited, I am 35 years old. I'm married with 3 children, one wife, for now (laugh).  I started my primary education was in Yola, Adamawa State,it's a public primary school, from there, I went to Government day secondary school and then to Kano for my university education, University of technology, Wudil and majored in Electrical Engineering, from there, I went to NIIT for my Microsoft Certified Solution Expert program. I fell in love with microsoft technologies and then pick it as a career and then work in about three different places(Independent Energy, Torrent Technology, Signal Alliance) then I went ahead to setup my own business in 2008 which is what we have today(IPI Solution Nigeria Limited).
What do you do at  IPI Solution.
IPi is a system integration organization which is a prominent Microsoft partner in Africa especially in 16 African countries. Our job is to pick business process and enable it with technology so that there can be seamless processes in the way businesses are run. Technologies supporting the business and enable the business success, and that's what we do. So, we identify a platform that we feel like is enterprise driven and conforms to industry specific requirement like Microsoft technology and we decide to build capacity and competency around Microsoft solutions and with that, we have been doing a lot of work in the country for the past 9 years which has led to us getting a lot of recognition in the form of awards. Just this year, Around August, Silicon Valley magazine listed IPI as one of the top 10 leading Microsoft solution provider in the world. Another magazine named us as one of the 100  most promising companies providing Microsoft solutions in the world.  Microsoft partner of the year award in 2016, several listings by the European business assembly and a lot more.
Why do you want to  leave a promising career like this for Politics?
You know, every organization is a function of its own nation, there is a lot of blockers in the system of governance that affects success of businesses, when all these blockers are all over, they don't just block business from succeeding, they also block potential employees from getting a job because as business expands, jobs comes in and things begin to move flawlessly. But, as it is now, we have a situation whereby the direction is not leaning to enable about 200 million Nigerian to succeed! There are blockers everywhere, if people are seeing these things and talking about it all over without taking actions, then, we will continue in the same cycle. So, we all have to take steps to fix this country together.
Do you have any political background?
No, actually, my father is just an Islamic scholar and a very traditional guy and my mom is a petty trader, so, there's no political background of any sort in my family.
So, what drives you into politics?
What drives my interest in politics is the desire to see that the nation is also competing with the great nations in the world especially when you look at Nigeria's potential! So, if people like me who has a good business and take all my money to the U.K to have my own flat to run to when there is a problem, then, we are part of the problem just like our leaders we say are destroying the country. So, we can't continue this way because if by 2050 we have 75% of this country being youths, how are we going to continue to feed them when things are getting bad every day? If you think you're comfortable and you have no problem because of your fine house and cars, these youths on the street who are homeless will one day come for you! That's what the country is heading to and we need to do something.
Do you have any leadership role apart from that of your business?
When   I was young in Yola, I was the first youngest youth leader. I became the president and association in  Yola North Local Government from the age of 19 to 22. When I was in University also, we formed an association called National Youth Association for Sustainable democracy. I also contested for SUJ president and I became one of the most popular students in Kano, but they didn't want non-indigene to become the president which is an issue in Nigeria we need to look at! During my years as a Youth leader in Yola, we managed to convinced people to vote for a different party from PDP because they weren't doing what we wanted and we managed to change some key position in the states to different parties which even made Atiku and his people to send me to Exile in Kano.
Do you thing experience play any role in leadership?
I think experience plays no role in leadership. I think what plays role in leadership is your ability to learn from mistake of past leadership and connecting it with wisdom. When you have wisdom on how things should work and you pick and study strategically how some leaders work in their own nation and how they make it and align it with your country specific requirement, then things will work. So, if you look at our leaders now, they have a whole lot of experience and those experiences are not helping in any way. If you look at great leaders from way back in the USA and United Kingdom, they were young guys and they shaped the way those countries are now which is why you see most of the European countries changing to young leaders because they know they have ideas which will shape the future which is always their focus unlike our leaders with experience from years back and don't have the foresight to plan for the future. Leadership is not about experience, it's about understanding and learning from people that succeed before and applying wisdom.
Why start from Presidency?
Look at the structure of our country! There's absolutely nothing someone in political office in Nigeria lower than the presidency can do about it! The over-centralization of authority is so high! All of us converge in Abuja at the end of the month to collect our share of monies! The money they didn't work for! The money is just on the ground, taken out and shared! Because of that, the president have enormous power, he can do and undo! So, the only way to shape this country is to be at the top and that top is definitely the presidency! There's a lot of potential in the country because of our population, if the economy is good and we have people creating businesses, they will make a lot of money because there will be a lot of consumers for their product which is why a country like China is thriving!
Is the Federal System good for Nigeria?
I believe the federal system is the best you can have in the world today! I believe all countries grow as a result of centralization of resources. If you look at Nigeria, some states are more productive than others but if we are a collective unit, we will be a lot more productive and it will move the country forward. If you look at the Shoreline states; Lagos, Calabar and the rest, they have the potential to generate energy and trade, now, the energy consumption of these areas might not be up to 50 million but we are talking about 185 or 200 million people, so, the energy from the shoreline states can be distributed to the other people and it will enable them to be productive. So, everything can work as a collective unit and resources from each states can be channeled to good use in every part of the country. So, it's very important for the country to be together!
Some people feel their resources are being used to develop other part of the country more than them?
This is where we are missing it as a nation! The people that are complaining are rightly doing so! Because they feel the country is about what we have, let us share it! There is no productivity anywhere! There is no reason why Bayelsa will be producing 200 thousand crude oil per day and you take the money to Yola, they will feel like the money is just being eaten, it is not being used effectively! But, if you enable a Bayelsa man, his business and you give him a direct connectivity to people in Yola and what he produce is fish for instance and than he over 2 million customers in Yola who are ready to buy his fish, he won't complain about the money from his state being taken to Yola. So, their complaint is valid! So, we have to build infrastructure for the nation for the capacity to strengthen and produce product for consumers and for every states to be productive and there will be channels and mediums to get their product to every part of the country either by water or by rail and we can leave our roads for leisure travelers instead of heavy trucks on them destroying them.
Is there any advantage to you being president compared to an ex military man or vice president?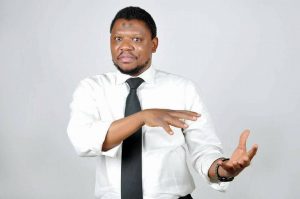 The Advantage I or any other ordinary citizen has over them is to let them know clearly that they have done their best for the country. If you look from 1960 up till date, you will see the leadership we have been running in this country has been "Patriotic" and these men have been doing their best but there will be a time when your best is not enough and you need to relax and allow a paradigm shift in the system. The law of nature understands replacement where the older can go and the younger can come in. If they can see the nation clearly, they know if they are enjoying today, their children will be in serious trouble because some of them with all the power they have, they send their children to the best schools but the children are still feeding under them and some of them are now drug addicts. Now, why is this happening? There's an answer to it, it's not just because the world is ending, it's because the country doesn't give hope to its future generation. So, It's very clear that their system is getting outdated! The Future is becoming beyond their grabs and they should honorably and respectively retire and relax, we thank them for their service! We are not going to chase them with any security agencies or what not or we won't be bothered with what people say they stole, they should go with their conscience but please, we need a way forward! I have three children in this country, I can leave them in this kind of situation that will make us become a country like DR Congo. They should know that we love them, we respect them, we honor them but they should please give us way and let us shift this country forward! Their time is over!
Your message to the youth?
I want our youth to know that there is no place better than Nigeria for us! And it's our responsibility to come and make this country a better place, each and every one of us! We all have a role to play in this nation building. There is always the question of whether this country will work, the country will work, there have been countries who passed through worst situations than the one we are in now! But, because of lack of visionary leaders, we find ourself failing! So, we all have to work to make the country great! So, I'm imploring every youth to look into our manifesto and see our plan for every Nigerian youth! Especially our educational policy, we have a plan to build a very strong educational platform for the nation. One of our main focus will be the primary school because it is very important in a child's life, We will upgrade our primary schools to be as good and standard like the corona schools so every Nigerian child can attend the best primary school! We want to do that not because we want them to attend the best primary school but we want to place them to be in the best psychological state. For example, when I was young, I attended a public primary school and my neighbor attended a private one, the way they dress, the way they talk and everything they do was different from me which affected me and made me question if I'll ever make it in life. So, it's very important for a child to have a good education from the early stage which is why it's easy for young girls to have bomb on them and blow people up because they don't have a sense of direction. And we will maintain that level of education to the end of Secondary school. We will give license of University to private schools but we will also have vocational schools which will partner with industries. So, for example, a company like Dangote Refinery can have a Vocational school to teach secondary school students about their processes which will give them the opportunity to employ them instead of going overseas to get workers! So, a company like Julius Berger will have a secondary vocational school as well, UBA will have their own as well so we can have ready made students for their company  because currently, there's a wide gap between what they are being taught in school and what the job market requires.
What is your party affiliation?
I'm not a member of APC or PDP yet
Don't you think time is running out, some people are already making up their mind for  Buhari some  others are singing Atiku and others
Yes one  good thing with politics is that some times some people say the earlier the better, the earlier you make yourself known the better, good but the decision to vote for Atiku, Buhari or Adamu Garba lies on the date of election when he of she is picking  ballot paper, up till that moment , you still have the opportunity on how to change the mind of the people, we just need to make sure that we get it right, we  litter our team with the correct body of people that are genuinely  wanted to see these country succeed among the committee of nation so we need to come together deliberate properly and conclude on which political party we will negotiate with, we can start by negotiating with a political party
 Or do you want to run independent
No , I don't want to run independent , I don't believe in sitting on the fence, you are either one side or the other, its very important to have a party platform so everybody can be carried along, I don't believe in personality, I believe in institutionalization
So  under what party are you going to contest ?
We are still consulting, we are yet to decided on the party platform to go to yet but what we are doing now is  we are collecting what is called coalition of the like minds, people  that buy into the idea of making Nigeria a great Nation, people that are not confrontational,  people that are not aggressive and that are responsible, people that will  not insult the elders because we have to respect our value system,  without them no society can thrive, we know that one day we will be in their shoe so we recognize that position , we don't want to condemn them we need like mind people that are willing to transform Nigeria into a better place  a place where everybody can be more prosperous where  we can have a good healthcare policy, a good education, and we can also some small money in our pocket and live our lives  without any problem or fear  so we are still consulting
to be contd…