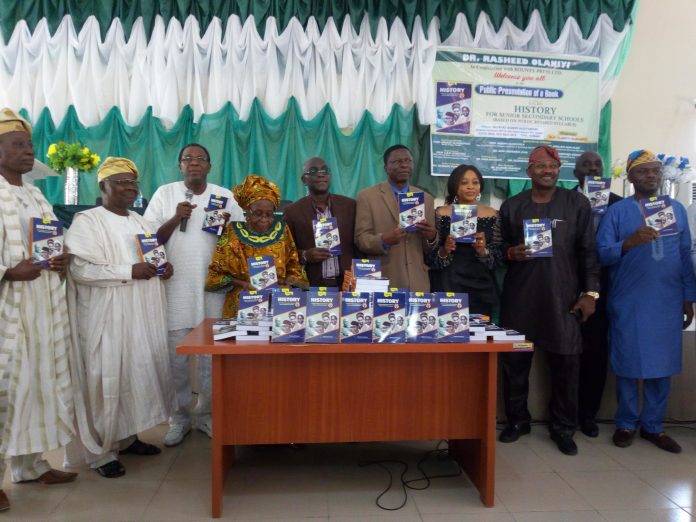 The return of history  in the school curiculum signifies National rebirth and the  most significant dividends  of democracy since 1999
An historical scholar Dr Rasheed Olaniyi said this at the launching of history book for secondary school held at Kola Daisi University In Ibadan on wednessday
Olaniyi, a lecturer at University of Ibadan noted that not all could be fed , employed or catered for by government but we all have history as a common patrimony'.
" In the absense of history in schools, the power elite perpetrated impunity with hilarious claims of framing time, International ratingof Nigeria in virtually all sectors was at the lowest ebb.Nigeria became a laughing stock and her citizens victims of zenophobia even in countries  we assisted to librate ".
" This textbook is a demonstration of our consciousness to implement the return of history in the school curriculum, with consciousnes of history, the mistake of the past could  be rectified today" he concluded
Also the Vice Chacellor Kola Daisi University Professor Luke Ayorinde in his remark  lauded the courage of tje author for putting history into perspective and urge other historians to emulate his gesture
President Historical Society of Nigeria  Professor Christopher  Ogbogbo in his remark noted that about 80 percent of the problems in Nigeria is caused by lack of good sense of  history by the  leaders and  follower and express optimism that with the development  things will change for better.
He maintained that the Historical Society of Nigeria has designed a plan to effect teaching of  indigenous history  from primary school to Junior Secondary school so as to help the younger ones in understanding thr paat about their community and its heroes.
He however lauds Dr Rasheed Olaniyi for taking a bold step in championinng the course of the society in teaching the younger ones with his books " we are not going to be like the Civil Society Organizations who after fighting the millitary left the scene for politicians, we are stakeholders in this project and we are going to be actively involved  in propagation of  social and cultural history so that our efforts will not be in vain"
 The book reviewer Dr Olumide Ekanade of Department of History and International Studies Redeemer University Ede said teaching of history will promote national development and enhance global peace .
Historians and scholars of repute , management and senior staff of Kola Daisi University and others graced the event .