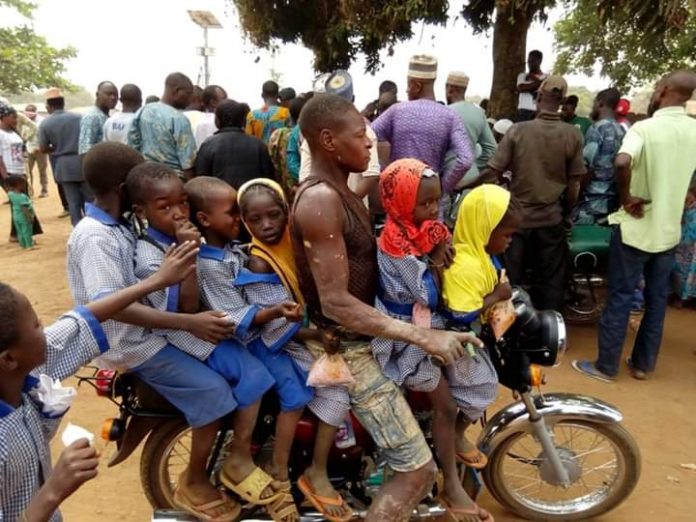 JDPC Hold Annual Stakeholders Conference, Preach Against Child Trafficking in Ibadan.
Kehinde Ayanboade,
Ibadan.
Justice Development and Peace Commission in collaboration with the Network for the Defence of Child's Rights on Tuesday held their annual Stakeholders conference on Actions against child trafficking, labour, and violence.
The orientation programme which attracts the attendance of security agencies, school students, anti – child trafficking non-governmental organizations, religious leaders, traditional rulers, market and community heads and other concerned agencies also have the goal target of including children who are victims of child labour within the age of 5 – 17 years in Ibadan.
Meanwhile, It is a necessity to facilitate the enforcement of the Oyo state child's right law 2006 by reducing the case of child right violation in our immediate environment to the barest minimum and engaging in the sensitization and education of children against trafficking, violence, child abuse and other human vices that can lead children to ruin while growing up.
While giving his welcome address, Director of Justice Development and Peace Commission, Rev. Father Ezekiel Owoeye maintained that the war against child abuse and trafficking is a fight for all to secure a favourable future for our children and wards.
While expressing the message of Oyo state Head of Service, Alh. Amidat Agboola, the Permanent Secretary, Ministry of Woman affairs, Mrs. E.A Abioye revealed that the government has promised to frank with anyone who contravenes the child right law and to be a key supporter of all non – governmental agencies that indulge in the act of preaching against child trafficking and labour.
Abiola further tasked parent and teachers with the need to do against hate speeches, and synergize together to make sure the right of all children are protected and promoted.
In the same development, Executive Director of Nigeria Network of NGOs, Mr. Oyebisi Oluseyi while presenting a paper titled "Student should not work in field but on dreams" analyzed the role of the parents and teachers in the successful upbringing of children.
Oyebisi also calls for the transparency of security agencies, religious and community heads and the government, in the cause of ensuring that the rights of children are not tampered in the society.
While passing justice to the paper titled "responding to the trafficking of children and young person", Founder of Live Abundantly Initiative Dr. Ama Onyenrima noted that Nigeria is rated 32 out of 157 countries knows for Human trafficking in the world.
She further preached to parent and guardians to make the care of their children and wards paramount in their heart and awake them on the ills of child labour and trafficking in the society adding that all children deserves the chance to learn and contribute to the society.
Coordinator of the program who doubles as the Head of Programme, Women and Child's Rights Programme, Mrs. Omotayo Adebayo while speaking to newsmen expressed the programme as a commemoration to World Day against Child Labour and Trafficking in Persons.
She moreover urged everybody to see themselves as a stakeholder in the cause of fighting the illicit act.
'In Ibadan metropolis which is our target, Children are engage in cultism, getting used to drug abuse and other vices.
This conference is for us to come together and address this issue and check into how to end this epidemic menace in our community". She said
In a dramatic presentation made by the student of Anglican Commercial Grammar School, the pupils portrays a picture of the needs for teachers to encourage and not discriminate weak students to keep them away from depression and make them improve in their studies.