Soun of Ogbomoso Oba Jimoh Oyewumi Ajagungbade 111 some of his chiefs and family member and Minister of Youths and Sport Hon Sunday Dare were today's trapped at the Palace as protesters stormed the palace at Oja Igbo Ogbomoso.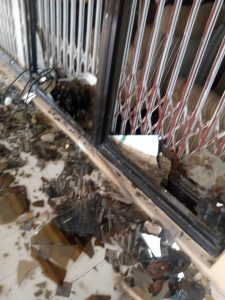 Two person were allegedly killed while several other people were injured and receiving treatment at BOWEN Teaching hospital and others in Ogbomoso
The minister who hail from Ogbomoso posted on his tweeter
"Ogbomoso-Hoodlums, thugs & miscreants distrupt stakeholders meeting in Soun's palace now-invading, stoning and breaking doors, glasses. Soun, myself and council chiefs were scurried into safety by the police and DSS. Ogbomoso youth are law abiding. But hoodlums have taken over "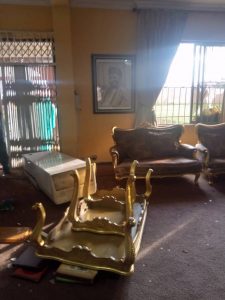 Dare said further that "The hoodlums broke into the palace and destroyed chairs, overturned tables, broke windows. These were not Youth or Students. These were miscreants and thugs who saw a window of opportunity in the protest which since abated. Thankfully.Soun, the chiefs, leaders of Parapo are safe "
It was gathered that the angry youths stormed the palace with corpse of two people fell by bullet and express their grieviances to the monarch but there was a twist and they started throwing stones destroying properties inside the palace
"A combined team of operation Burst from Ibadan and a unit from Ilorin are now on ground in Ogbomoso to help keep the peace, protect the peaceful and innocent and also stop criminal elements.Soun of Ogbomosho yesterday and today personally appealed to this group to stop violence" He concluded
It was however gathered that it was the DSS that took him and Baba away from the palace while chief, other palace workers and families of the monarch ran for safety.