The Chairman Senate Committee on ICT and Cybercrime Senator Abdulfatai Buhari on Thursday disburses  cheque for payment of West African Examination Council WAEC fee for 600 secondary school students in his constituency.
Just as he also presented a bus to the Federation of Oyo state Student Union FOSSU National.
The gesture which was tagged Senator Buhari Educational Support Scheme was in continuation of his commitment to the educational advancement in the country
Senator Buhari who was represented at the event by Alhaji Rasaq Gbadegesing said he is poised to invest in the future of the younger generation through education and other activities that will boost their morale in pursuing a worthy future.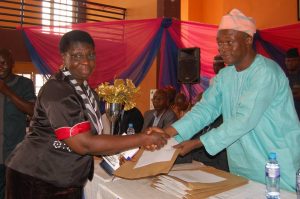 Speaking on the mode of selection, the lawmaker maintained that the beneficiaries were selected base on merit and not parents influence or party affiliation
The event which was held at Ogunlola Hall Oja Igbo Ogbomoso had in attendance State Zonal, local executives of the NIgerian Union of Teachers.NUT, ANCOPPS and others
In his address, the state commissioner for Education Professor Joseph Olowefela lauds the Senator for supporting the state government on education saying his gesture is appreciated and acknowledged
Olowofela who was represented by Ojelade F  local inspector of Education in Ogbomoso  charges the pupils to be more focus and discipline ' your future is in your hand and the only way you can have a better future is when you did not allow material things to overwhelm your dream.'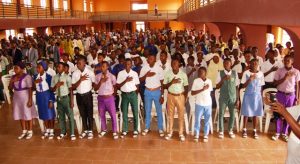 In his brief lecture, an Educationists Mr Moses Ogunniyi charges parents to always give their children the best of education  in preparing them for the future.He said further that ' apart from education , parent should strive hard to instill discipline and fear of God in the children,  their background and upbringing matters a lot in life'.
Ogunniyi who lamented that most of the children have no idea of what they want to achieve in future said' student must be ready to be disciplined, and have a goal which they should pursue vigorouly.'
Abdulyekeen Mariam parent of one of the beneficiary said ' This education initiatives will go a long way in relieving us and help our student to move forward, unlike some politicians who gives cutlass and gun to the youths, Senator Buhari is helping them to secure a better future one of my son who benefited from his educational support program in 2005 when he was a house of Reps member is now a graduate.' She said
Also Zonal Chairman NUT Ogbomoso Zone Comrade Adaramola Sunday described the initiatives as an investment that will assist the younger ones in thier future endevour .
Senator Buhari has been doing it before. he has been very supportive he has built ICT centers for schools in the Senatorial  we and we appreciate him'.
State ANCOPPs Chairman Mr Aremu Emmanuel while commending the Senator said Oyo state is fortunate to have distinguished Senator of his kind in this present and pray for his success in his future endeavor