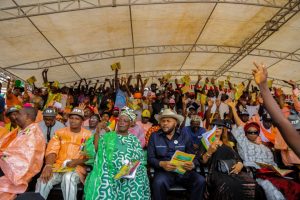 The Zenith Labour Party (ZLP) gubernatorial candidate in Oyo state Barrister Sarafadeen Alli has promised to initiate programs and policies that will enhance rapid growth and development of the state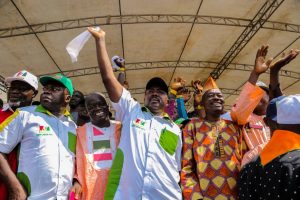 He was particular about the dwindling economy which he said was causes by ineptitude of the present administration.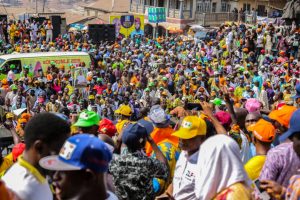 Alli While speaking at the Party' campaign flag off held at Mapo Hall Ibadan on Tuesday said his administration will not only be masses oriented but also ensure qualitative and affordable education and health care delivery
"If I become the Governor of this State, I will return the glory of Oyo back to her, Oyo citizens will not be paying any school fees for both the primary and secondary schools, I will fully support local government autonomy, I will not demand a dime in disguise of tax from Churches and Mosques and we are going to provide adequate security for our people." Alli said.
In his welcome remark, Senator Rashidi Ladoja who is the National Leader of the party said it is obvious that people are ready to be liberated from the ruling All Progressives Congress APC' deceit
While expressing optimism that ZLP will take over from APC, The Ibadan high chief said ZLP will win 100 percent votes in the state during the election.
The National Chairman of the party Mr Dan Nwanyawu while commendi g Senator Rashidi Ladoja and other stakeholders for joining ZLP assured them of adequate support He
Nwanyawu also raises an alarm over death threat on the party's Candidate for the House of Representatives in Oyo State,Rotimi Ajanaku,
He said if evil befalls Ajanaku the outgoing administration in the State should be held responsible.
Hear him "Hon. Rotimi Ajanaku is one of us in Zenith Labour party, he is one of our candidates vying for the position of Ibadan South West/North West Federal Constituency at the House Of Representatives in Abuja, though he has one time belong to the APC but he is no longer there and since he has decamped, he has be complaining that some people he suspected to be working for the Governor have  been trying to assassinate him for reason unknown", the Chairman
"It is not a crime for anyone to join political party of his choice, so i am using this medium to tell all Nigerians and the world that if anything abnormal should happens to our own Honorable Rotimi Ajanaku, the Governor of this State will be made accountable for it'.
The event was attended by party faithful stalwarts The National Chairman of the Zenith Labour Party, Dan Nwanyanwu, former Governor of Ondo Olusegun Mimiko, former Super Eagle star, Chief Segun Odegbami (Ogun state), Yahaya Makama, Segun Jones, ThankGod Enahoro, Hassana El-Abdullahi, Eni Akinsola and Mrs. Onyemekara Chinyere, all members of the partt National Working Committee .