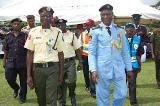 A non-governmental organization that focuses on addressing emergency situations on the highways and promotion of safety consciousness among road users in Nigeria, Road Accident Information & Rescue Organization will on Saturday, 1st December, 2018 honour prominent media practitioners for their role towards championing the course on safety awareness.
The event, which will be held at Awolowo Stadium, behind Awo Hall, University of Ibadan by 10am, will also feature official decoration of the newly recruited, trained rescue marshals.
Commandant General, Bamgboye Okanlawon, in his statement mentioned Head of Station, African Independent Television (AIT), Folakemi Tokunbo, Publisher, Parrot Xtra Magazine, Olayinka Agboola, Lagelu FM ace presenter, Ajibola Akinyefa and Tinuade Atoyosoye of Broadcasting Corporation of Oyo State (BCOS).
Others to be honoured include Wale Adeoye, Lead City FM, Director, Obafemi Awolowo Sport Complex, University of Ibadan, Dr. Isiaka Abiodun Salami and Elder Adekunle Ajayi, Chairman, National Union of Road Transport Workers (NURTW), Challenge Branch.
Speaking on the inauguration of the newly trained rescue marshals, Okanlawon noted that the organization in its efforts to improve on its humanitarian services and speeding up on the level of advocacy for the campaign for safety consciousness among road users in Nigeria, particularly in Oyo State necessitated the recruitment, training and official commissioning and decoration of more rescue marshals.
He disclosed that the Road Accident Information & Rescue Organization has been in the frontline of providing humanitarian services to the people in the country by responding to various emergency calls from the members of the public through its Emergency Rescue Information Control Centre (ERICC).
According to Okanlawon, "We will continue to work closely with Federal Road Safety Corps (FRSC), Nigeria Police Force, Fire Service, Nigeria Security and Civil Defence Corps (NSCDC), Federal Emergency Road Management Authority (FERMA), State Emergency Management Authority (SEMA), National Orientation Agency (NOA), National Drug Law Enforcement Agency (NDLEA), Media Houses and other relevant agencies and organizations to better serve effectively and save many more lives.
"We will continue to work with local communities to avail them adequate safety education programmes including training and volunteer services to make communities safer, stronger and better prepared to respond to emergencies."
Commandant Okanlawon emphasized that the rescue marshals, being the first responders required certain knowledge to approach emergency cases before the arrival of relevant mother safety organizations, adding that the newly trained rescue marshals have undergone required emergency training in all emergency situations and this will assist in curbing various emergency situations at any time.