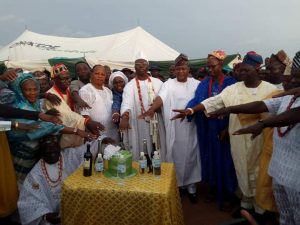 Aare Ona Kakanfo of Yorubaland Iba Gani Adams has urged members of the Oodua Peoples Congresss OPC to renew their charms and be battle ready against insecurity and banditry in the South West
The directive follows the decison of the Police to collaborate with the Oodua Peoples Congress in combating crimes in the region
The Inspector General of Police Muhammad Adamu on Monday in Ibadan at the South West Security Summit anounced the readiness of the Police to collaborate with the OPC in the fight against bandtitry and crimes in the South West .
Speaking at the National Cordinating Council of the OPC in Ogbomoso on tuesday, Iba Gani Adams said there will be no room for ceremonial member as everybody must be prepared and ready to work for the region.
Adams who is the National Cordinator of however warns that members shoulf not take law into their hands when engaging in fighting crime. you have to work in accordance to the dicate of the law of Nigeria , nobody is above the law
"You are going to work with the special squad set up by the IG for that purpose, you will be properly trained and you
must be ready to work deligently and ensure safety of our region.
iba Adams maintained that other groups including Vigilante Group of Nigeria VGN, Agbekoya, and other groups in Yoruband will be involved .it is not about OPC alone, it is about Yorubaland and we must all work together to make sure Yorubaland is safe and secure.
In his remark, Hon Segun Dokun Odebunmi, a member of the National Assembly representing Surulere Ogo Oluwa federal constituency commended the Inspector General"s decision to work with the OPC in securing the South West .
" This is a statement of affirmation that OPC is a responsible organization in yorubaland.He said.
Odebunmicommended Aare Ona Kakanfo Iba Gani Adams and his team for thier painstaking efforts in maintaining the principles of OPC and using it for the right purpose.
While urging them not to relent in their efforts Odebumi express optimism that the collaboration would yield positive development and reduce crime rate in the society
' In combating crime, information is important, and those in OPC are members of the socitety, they live among us and we relate and with their involvement the crime rate will be reduced drastically.
Traditional rulers at the event including reprsentative of Soun of Ogbomoso Oba Jimoh Oyewumi Ajagungbade 111 commended AareAdams for his effort and pray for long life and sucessful reign as the Aare Ona Kakanfo.