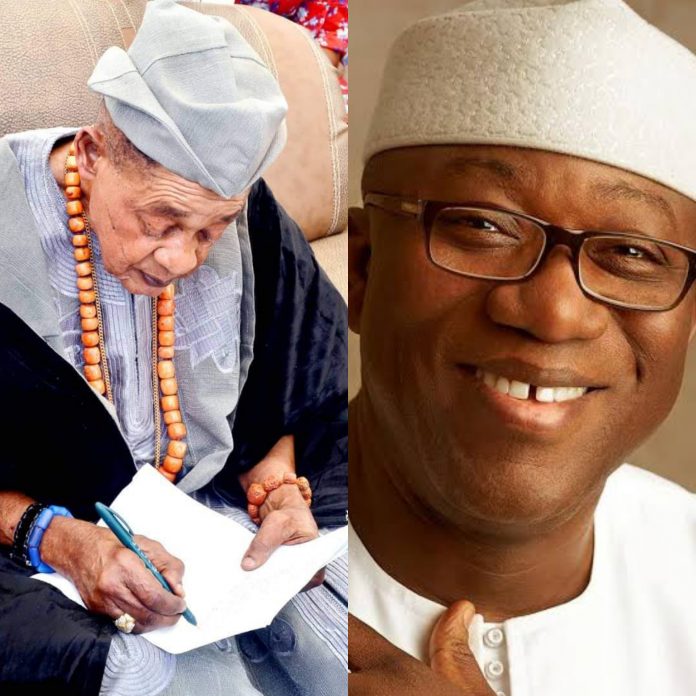 IKU BABA YEYE
Alaafin of Oyo
The Palace, Oyo, Oyo State, Nigeria.




His Excellency,
Dr. Kayode Fayemi,
The Executive Governor of Ekiti State,
Governor's Office,
Ado-Ekiti.
Ekiti Ştate.
I write on behalf of other prominent Traditional Rulers in Yoruba Land, after wide consultation between the following Paramount Traditional Rulers in Yoruba Land.
1) His Imperial Majesty Oba Lamidi Olayiwala Adeyami I – The Alaafin of Oyo
2) His Imperial Majesty Oba Enitan Ogunwusi Djaja II
3) His Imperial Majesty Oba Sikiru Adetona Ogbagba I
*4) His Imperial Majesty Oba Gbadebo Adedotun
5) His Imperial Majesty Oba Adekunle Aramolaran
6) His Imperial Majesty Oba AbdulWahab Oyedotun Bibire Il- The Orangun of lla
7) Last but not the least- His Imperial Majesty Oba Kehinde Olugbile- The Olu of llaro and Paramount Ruler of Yewaland. This is in respect of recent happenings in Ekiti State with regards to Traditional Rulership in the State under Your Excelleney's
Leadership.
– The Ooni of Ife
-The Awujale of ljebuland
– The Alake of Egbaland
– The Owa Obokun of ljesaland
Specifically, this is in respect of the composition of the Council of Obas and Chiefs in the State.
Let me start by saying that the sacrosanct of Pelupelu that grades the sixteen Crowned Obas in Ekiti Land is not in doubt. Suffice to say Your Excellency that in any human society and more so in Yoruba Land, order of hierarchy and seniority are of vital consideration in position placement.

(3) From time immemorial, Obaship Leadership in Ekiti Land had been within the sixteen Obas without any dispute or quarrel among them and indeed to the admiration of other Yoruba Kingdoms.

(4) It was therefore with total displeasure and indeed total discomfort that we learnt of Your Excellency's neglect of the hierarchical order by appointing a subordinate Oba as the Chairman of the Council of Obas and Chiefs in the State over and above therecognized order.
(5.) In a free society like ours, nobody should expect those injured by that assault to keep quiet. As civilized people, rather than confronting or engaging the government they
chose the court option.
(6) Since the case is still in court, we will not want to comment further on it as a law abiding citizen. I however would have expected that Your Excellency waits till the end of
the court process before acting on the matter.
(7)It is in this note that I along with my fellow Traditional Rulers across Yoruba Land feel very sad that Your Excellency issued query to the sixteen Ekiti Crowned respected Traditional Rulers of high esteem in Yoruba Land for not bowing their heads to their
subordinate by not attending the council meeting under their subordinate. That exercise
and without mincing words is to say the least subjudice.
(8) We consider it important to go memory lane with you on the role of Pelupelu Obas in Ekiti Land in the development of Yoruba Nation. This is particular with Ekiti Parapo
War which is very famous in Yoruba war history as the KIRIJI WAR (1870-1886).

(9) Suffice to say that in the course of the sixteen year-old war, the battles became so internecine and threatening that the Alaafin as the head of the Yoruba Nation had to write
to the British Authority to mediate in bringing the war to an end. This led to the Treaty of Peace of 1886 between the British and Yoruba leaders under Alaafin's Leadership.

(10) We go into this history to let Your Excellency know that Yoruba has far reaching history than many races in the country. Unlike some other races, Traditional Rulership is not banded by religion but by Tradition and Culture. That explains the difference between
us and some other cultures. Whereas, some races see deposition and installation of Traditional Rulers as mere administrative routine with executive fiat all in open glare, that
is not so in Yoruba Land.

(11) To some races, nothing outside the mundane is attached to their Traditional Institution. Whereas, that of Yoruba is beyond the mundane as it is also ancestral and spiritual. The Yoruba Oba is the representative of the ancestors, the real owner of the land
or ground.
(12) It is on this basis that we will advise against any attempt to treat traditional institution in Yoruba Land with levity and to avoid any attempt of importing any sub-culture of traditional degradation into Yoruba Land.
(13) It is Ironic that while the predecesors in-office and Ancestors of these sixteen Crown Obas (Pelupelu) famous Ekiti Kings and their subjects displayed uncommon patriotism, courage and commitment to confront the intimidating Militry prowes of Ibadan Army for sixteen years 1870-1886 that, Your Excellency as one of the beneficiaries of the legacy bequeathed by these Kings of Yoruba History is now embarking on an exercise that will rubbish the contributions of your ancestors.

(14) Finally, as fathers we should like to advise Youf Excellency to tread softly any relationship with Traditional Institution in the name of Oduduwa and our other Ancestors in Yoruba Land. Let us employ diplomacy to settle this issue. We have the mechanism of conflict resolution in ways of our ancestors.

Accept the assurances of warmest regards from the ParamountTraditional Rulers of Yorubaland.
For, and on behalf of the Paramount Traditional Rulers listed above.
IKU BABA YEYE
Oba (Dr.) Lamidi Olayiwola Adeyemi III, JP. CFR, LLD, SAP, D.LLTS, DPA, FICJ
The Alaafifi of Oyo and Permanent Chairman Oyo State Council of Obas and Chiefs
Chancellor LUnivensity of Maiduguri, Bono State
Chancellor Crescent University, Abeokuta, Ogun State.
Pro-Chancellor Keisie International University South Korea Nigeria, Ghana and Sierra Leone