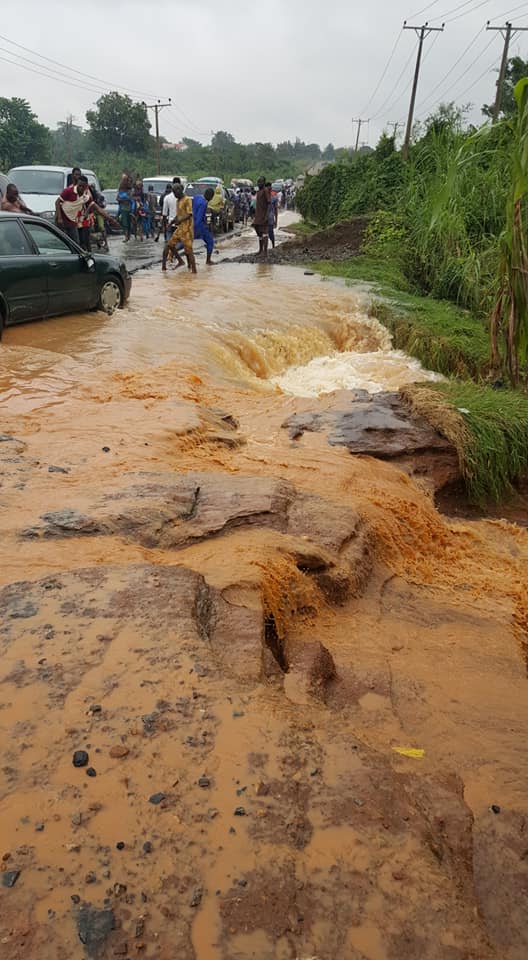 Since it has become a pattern for some vested interests to malign Distinguished Senator Buhari AbdulFatai on any developmental lacuna in Oke-Ogun axis of Oyo North Senatorial District, we have also made it a point of duty to educate, inform and enlighten our people on certain lies been peddled against the Senator on social media.
Like a thief in the night, another pointless, aimless, senseless and imperil publication surfaced online with the aforementioned tittle alleging that Distinguished Senator Buhari AbdulFatai lied and deceived people of Iseyin on Oyo-Iseyin road in order to get their votes. The said publication was signed by one Alhaji Segun Fasasi on behalf of Ebedi Frontliners, Iseyin.
We would have ignored it like others, but the need to expose those masquerade behind the costume and their mission can not be overemphasized. Also, the likes of Fasasi must be educated on how Government works. It must be noted that it is not a duty of a Senator to construct a road, all what he can do is to LOBBY the executive arm of Government through convincing advocate and attract such to his/her Senatorial District.
The said publication was just a hatchet job with the sole aim of pitching Iseyin people against the Senator. The bad news for those drunkards is that Iseyin people know better and love what he has accomplished since his foray in the Senate.
Mr Fasasi and his co-travellers goofed by stating that Distinguished Senator Buhari "mobilized some individuals he claimed were from the Federal Ministry of Works and Housing to Oyo-Odo Ogun- Iseyin." The retarded Fasasi was actually referring to a visit by Senate Committee on Works led by Senator Kabiru Gaya to the said location. It was at the instance of Distinguished Senator Buhari AbdulFatai who insisted that members of the Senate Committee on Works who were on assessment tour of South West roads visit Oyo-Iseyin road as a prelude to its inclusion in 2020 Budget.
To walk his talk, Distinguished Senator Buhari AbdulFatai on October 2nd, 2019 wrote a letter to the Honourable Minister of Works and Housing, Babatunde Raji Fashola stating the devastating effects the road has caused his constituents economically among others. On December 20th, 2019, the Honourable Minister responded to the letter and stated thus " Necessary engineering design works on Oyo-Iseyin road has been concluded. It is undergoing the necessary procurement processes in preparation for CONTRACT AWARD."
Facts are stubborn, truth is incontrovertible. Ignorance may derail it, panic may resent it, malice may destroy it, but there it is.
BAF is steadily and painstakingly retooling Oyo North in terms of representation. Out of sheer and deliberate ignorance, some people deride it, saying we see nothing, we hear nothing. Yes, when you have become deliberately blind, you can see nothing, even when when it is thrust before your very eyes, you won't see it.When you have become willfully deaf, when it is noised to your hearing daily, you won't hear.
The deranged hand behind the so-called Ebedi Frontliners, Iseyin is still nursing the defeat suffered by his candidate in the last elections. He should just face his 'saved' job with Oyo State Government. If he chose to follow the path of fake news dissemination despite claiming to be a Journalist, we shall come hard for him.
Abiodun Amuda (2A)