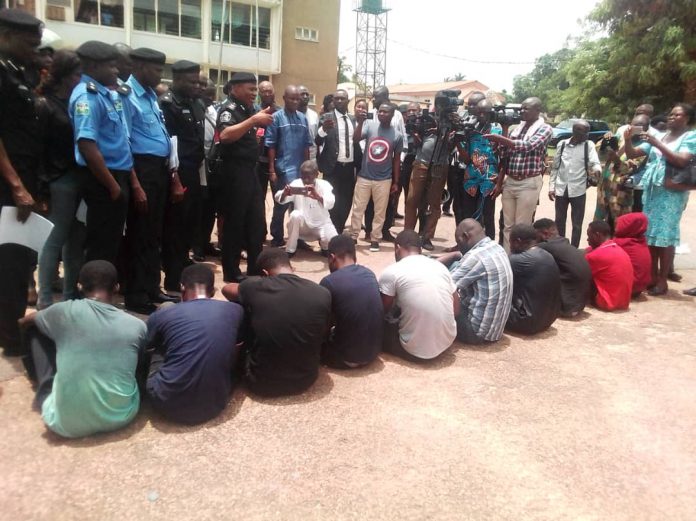 In her  avowed commitment to realized a crime free Oyo State, The Oyo State Police Command in just one week has arrested the total of 10 suspects who fall in case of Conspiracy, Stealing, and the act of Fraudulent Sim Swapping and Bank Account.
The Oyo State Commissioner of Police, CP Shina Olukolu revealed this information while parading some sets of suspect which also includes 3 suspects of Armed Robbery along Moniya/Iseyin Road, 2 suspect for possession of Firearms, and another 2 for Cultism.
Olukolu explained that the criminals on Sim swapping/Bank cultivated the habit of randomly guessing people's contacts and trickingly getting there personal data and details for the fraudulent act.
He stressed that on getting the phone numbers of people and calling, the phone of victims goes blank and debit alert will starts rolling in from all Bank accounts and pictures and data of the victim will be unsaved.
While speaking to our reporter, One of the suspects Fatai Temitope, 21 who claimed to be a worker of a cyber cafe in Ijebu -Ode explained that he was innocently sent by his boss Oluwaseun Kareem to swear a fake affidavit and national identity cards placed with different names and pictures delivered Abiola Onasile who is an agent of Airtel who she was arrested alongside with.
The Commisioner further appealed to the entire citizenry of Oyo state to corroborate and support the Police with adequate, accurate and timely information so as to ease their functions of maintaining peace and order, protecting lives and property and others as enshrined in Section 4 of the Police Act.
He further wishes all Christians of the state a Prosperous Easther Celebration and advised masses to be on watch to keep the atmosphere and there environment safe of Bad minded people.