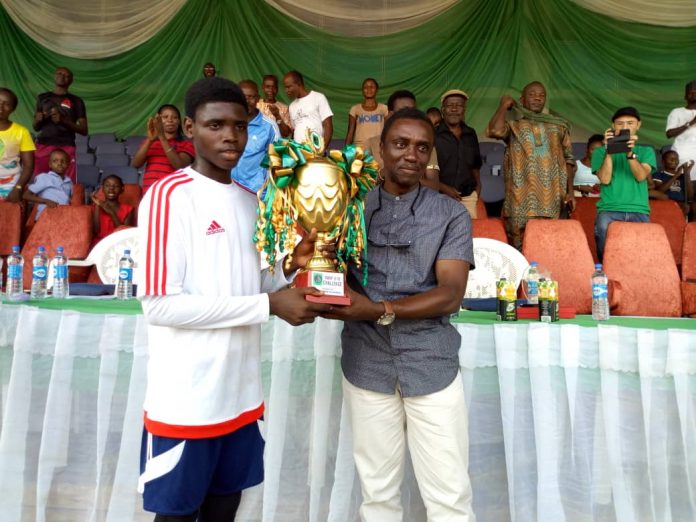 Government College Ibadan, Oyo State and defending champion defeated Ado Ekiti Grammar School,Ekiti State to win the U-16 SouthWest Hockey Foundation Tournament on Saturday 24th November,2018 at the MainBowl of the Adamasingba Stadium,Ibadan.
The Ado Ekiti Grams Boys opened the lead in the second quarter of the game after a goalless draw in the first quarter,first time in three years the defending champions,GCI, will be held that tight.
Toluwani Odedokun,Captain of the Ibadan Boys converted a well tailored penalty corner from Ademola David to make it a goal apiece.
David Ademola,the highest goal scorer in the tournament, highest goal scorer in the 4th Edition and 2018 SouthWest Preliminary Tournament in Abeokuta, increased the tally for GCI.
The very enterprising game by both sides who met at the finals undefeated saw the Oluyole Boys gaining more possession until the third goal was scored.
The President of the SWHF, Engr. Folarin Olujembola ,The General Manager of Oyo State Sports Council and representative of the Commissioner For Youth And Sports in Oyo State(Hon Abayomi Oke) Mr Gboyega Makinde,Mr Yemi Abiodun (HCD Ball Games), Mr Leye Akintunde (Senior Organiser), Mr Adeleke Peter(Oyo State Sports Council PRO) and Pastor S.O. Oladele (The Former Principal of GCI) were among the personalities present.
The awards presented were as follow; Highest Goalscorer With 8 Goals, David Ademola ofvGovernment College Ibadan, Oyo State
Best Goalkeeper: Idowu Fatihu of St. Mark Commercial Oshogbo, Osun State
Best Left Half Back: Olanipekun Kehinde of Ado Ekiti Grammer School, Ekiti State.
Fair Play Award: Aquinas College, Ondo State.
Young Player: Ajayi Opeyemi of Ado Ekiti Grammer School, Ekiti State.
Most Valuable Player: Olaitan Abdulrazaq of Okemagba Junior High School,Epe, Lagos State.