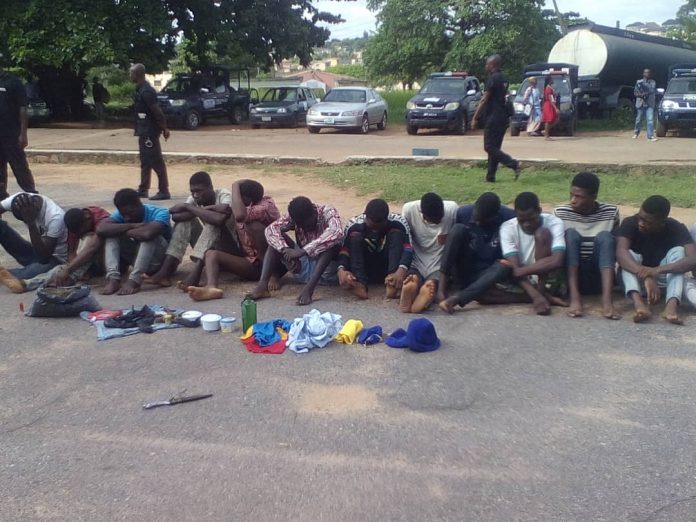 The Oyo state Police Command today paraded about 30 Suspects for various offenses bothering on armed robbery cases, unlawful possession of Firearms and Ammunition , School Cultism and Kidnapping from the metropolis of the state.
The commissioner of police , SP Shina Olukolu who disclosed this today at a press briefing held at the Police Headquarters Eleyele Ibadan, said the achievement of the police so far is as a result of the corroborative support the command get from the community and members of the public with effort of intelligence led policing , revamped vehicular patrol, and the newly launch of operation puff adder.
He noted that 16 of the suspects were arrested for armed robbery cases in Idi – Aro, Ojoo,and Igbo Ora/ Eruwa area. 13 suspects for cultism from Oke Ogun Polytechnic, Polytechnic Ibadan, Landmark University and others,1 suspect for unlawful possession of firearms from Saki/Ogboro Village and 3 suspects were arrested for kidnapping in Igbo – Ora Area.
The Commissioner however gave his sincere appreciation to the Oyo state government for their contributions to his command with the donation of 2 patrol vehicles, 60 bullet vests, and 40 helmets which will aide in smooth operations of their activities.
Buttressing on Community Policing, He further thanked the people of Oyo state for their support and urged them to keep providing useful information that will help the command carry out there constitutional Responsibility as entrenched in the Law.
In an interview with one of the suspects, Gafaru Salami, a man of 59 years who was arrested for illegal dealings in sales of Arms and Ammunition revealed that he import arms from an African state very close to France.
"I'm a dealer of arms which I imports from Parake, close to France, I sells those arms to local hunters and vigilantes, though they do show me there ID Card before I sell to them but I have no license.
I sell each live cartridge for 350 naira, and I confessed guilty to the offence.
I am a Muslim cleric before I venture into this business, I've realized my mistakes, I've been disgraced to the public, I hereby pleads mitigation for I will never repeat this offence if I'm pardoned."
He pleaded.