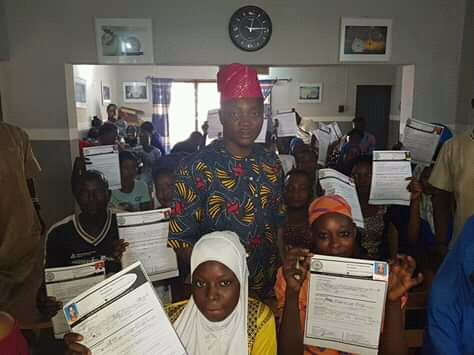 Hon. Yusuf Adebisi, Member representing Ibadan South West state constituency 1 in the Oyo State House of Assembly has enrolled not less than 40 youths in his constituency in vocational training programme.
The vocational training programme, which was held on Saturday, August 24th, 2019 at Vocational Training and Education Centre, at Aribisala Street, Popoyemaja, Ibadan, witnessed the presence of Peoples Democratic Party chieftains in the Ibadan South West Local Government, including Youth Leader, Ibrahim Olajide and chairmen and youth leaders at ward level.
Hon. Yusuf Adebisi, revealed that the programme is to make his campaign promises come into reality and purposely to get youths involved in the upgrading of the economy of the state.
Adebisi, who is the Deputy Chief Whip added that the vocational training programme is not mainly for the youths in his party, PDP, which is the platform enabled him the opportunity represent the people, rather, it is for all youths in across the state and beyond irrespective political party affiliation.
While charging the beneficiaries of the programme to make use of the opportunity availed to them, He promised that the programme will be a continue exercise for indigenes and youths in the constituency.
Adebisi noted that he wanted the opportunity to enable the beneficiaries to become employers of labours and trainers of trainees, hence the initiative, where they will also be extending the knowledge to others and improve their lives.
He pointed out that the initiative was in partnership with the Sower Empowerment Foundation (SEF), which is a non-governmental organization that will train the beneficiaries on different vocations such as hairdressing, barbing, fashion designing, computer engineering, bead making, cosmetics and perfume making.
Hon. Adebisi, who is the Vice Chairman, Committee on Youths and Sports, urged youths in state and country at large to be good ambassadors of their family and nation by devoting their time and energy on something meaningful and that will contribute positively to their lives.
The youthful lawmaker promised that necessary tools will be procured for all the participants irrespective of vocations undertaken to allow them to start their business immediately after training programme.
The Peoples Democratic Youth Leader in Ibadan South West Local Government, Ibrahim Olajide commended Hon. Yusuf Adebisi for the initiative and hie effort towards fulfilling his campaign promises.
While charging the beneficiaries not to disappoint their benefactor, the youth and the party, he urged them to focus on the training in order to achieve the objective and rationale behind the programme.
Speaking on behalf of the beneficiaries, Adekunle Saka and Abdulsalam Opeyemi commended Hon. Adebisi for the opportunity given to them, they promised to give priority to their training and be good ambassadors of their families and the people of the constituency.
The duration of the training programme according to the organizers will last from the period of seven months to one year depend on the vocation.