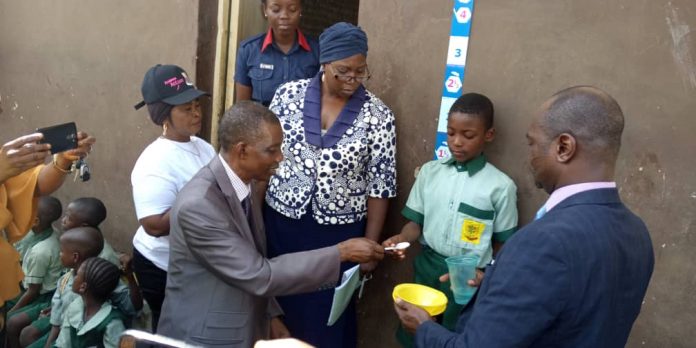 Evidence Action, a non – governmental organization, and Oyo state government today flagged off deworming of pupils in public schools accross the state.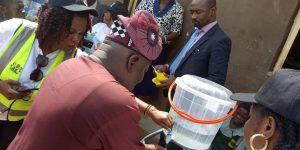 The event which was held at St. Michael Primary School, Iyemetu, Ibadan on Tuesday was designed to benefit about  2million school aged children within the range of 5 – 14 years in the state.
In his welcome address, Executive Secretary, Oyo State Primary Health Care Board, Dr. Muideen Olatunji applauded the collaborative effort of the federal government,Oyo state government, and the sponsoring NGO, Evidence Action for their investment in the program.
Dr. Olatunji noted that it is the duty of the government to educate teachers and parents on child malnutrition which is a key tool in a child's immune productivity.
While giving his remark, Zonal Coordinator of 'Evidence Action', Mr. Femi Adepoju expressed his profound gratitude to all stakeholders engaged in the implementation of the deworming exercise.
Adepoju reminisced that the last exercise organised by the organization benefited over 700,000 school children in 13 local government areas in Oyo state.
While leading the flag off exercise, Honourable Commissioner for Health in Oyo State, Dr. Bashiru Bello enjoins parents and school children to take advantage of the program which he regarded as 'Public Health Scholarship'
The commissioner maintained that the health sector is one of the 4 major cardinal point of the current government of Oyo state under the leadership of Gov. Seyi Makinde.
Program officer, Neglected Tropical Diseases, Public Health department at the Federal Ministry of Health, Mrs. Rita Rude explained that this particular round of treatment has been targeted for over 2 million school – based students in 21 local government areas in Oyo state.
She added that the federal ministry of health has decided to treat Schistosomiasis and Helmiathiasis with the donation of 3 million tablets of praziquantel and 600,000 tablets of mebendazole for the treatment of the two diseases respectively.
She however added that the treatment will leverage on the school – feeding programme, adding that the drugs should not be used in an empty stomach.
She also noted that the exercise is set for children between the age of 5 – 14 years because they are highly vulnerable to this diseases.
Chairman of the Oyo state universal basic education board, Dr. Nureni Adeniran ably represented by a board member, Hon. Akeem Oladeji appeal to parents and guardians to endeavour in periodic deworming of their children.
Also representing the National Orientation Agency, Mr. Olatunji urge children to wash their hands after touching the soil or other dirty materials.
Other dignitaries present at the flag off ceremony are director of schooling representative of Commisioner of education, Mrs. Ajibola, Oyo State Advisory Committee in neglected diseases, Prof. Arulogun.