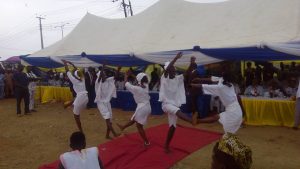 Governor of the state of Osun, Ogbeni Rauf Aregbesola has lauds the leadership of  Aare Gani Adams Oodua Peoples Congress OPC for its coordination and support for the annual Osun Osogbo Festival
Aregbesola while speaking at OPC events at Osun Osogbo festival held at  Laaro Primary school , Asubiaro osogbo said the enormous contribution of OPC to the success of the event is always felt on the economy of the state
The governor who was represented by his Media Adviser , Mr Semiu Okanlawon  maintained that OPC is the most organized and reliable  organization in Yorubaland and Nigeria at large .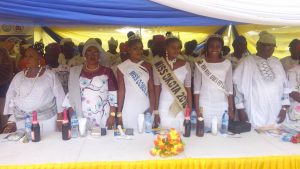 The chief  promoter of Olokun Festival foundation and National coordinator of Oodua Peoples Congress Aare Gani Adams  said the organization has  never for once relent in the core value of  the group .
These are the values that bind us together as a group. In our desires to promote Yoruba cultural identity, we have endure a lot of trying times and moments."
The 15th  Aare Ona Kakanfo of  Yorubaland however  stressed  on the need for the stakeholders  to synergies  and work on modalities to take tourism in Nigeria to the next level for economic development and financial gains for the people.
Mrs Taiwo Oluga  special adviser to the governor of the state of Osun on culture and tourism   also lauds Aare Adams led OPC for their  involvement in the annual event
Oluga uses the opportunity to reaffirm the commitment of the government to promote tourism, culture and also appeal to people to pay their tax regularly for the development of the states
Architect  Gbenga Akintola, the  Gubernatorial  candidates of the Alliance for Democracy AD in the forthcoming election in Osun  also lauded Aare Adams and his  team in OPC    for their commitment to the promotion of tourism and Yoruba cultural heritage and promise to  transform  tourism  in the state  if elected as the governor of the state.
Some  local and   foreign tourists who visited the site  were thrilled with the electrifying  performances of the Oodua band  and Osun state government  traditional troupe.
Other dignitaries at the events include Professor Abiodun Agboola, President Ifa religion international. Ambassador Yomi Fash, traditional rulers, state coordinators and others