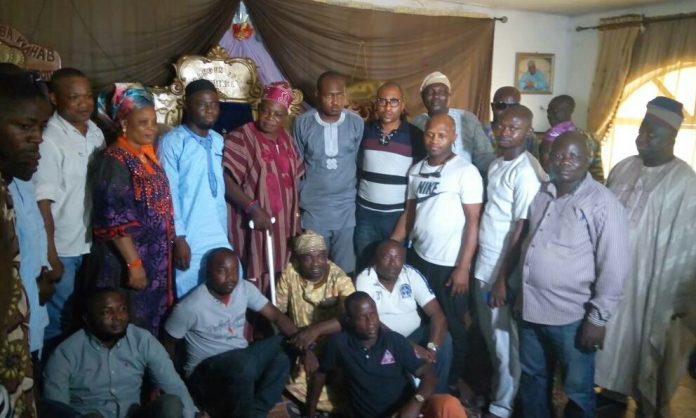 A group within Osun State chapter of the All Progressives Congress (APC)-Osun All Progressives Youth Forum (OAPYF) led by  Comrade Olateju Olorungbebe Adunni on Saturday began town Hall meetings in all the eleven Federal constituencies  across the state.
The meetings have been scheduled to hold between February 17 and March 3, 2018, and kick started from  Igbonibi Town Hall, Ila-Orangun, Osun Central Senatorial district.
Adunni noted that the programme was specifically conceived to ameliorate perceiving differences  within the party and parcify any aggrieved member.
The coordinator explained that necessary mechanism are in place to make the programme a huge success and bring members to an amicable stance.
"This town hall meeting is an opportunity for all the  Osun APC Youth to interact intimately with political appointees and party leaders elected on the platform of APC in our locality, to assemble and discuss our basic interests.
"We are also exploring the interactions to proffer solution to internal tension threatening our cohesion and bond  irrespective of political interests , and swing into actions to solidify our political family the more as a vibrant segment of the party.
"It is pertinent for us to take the present challenges confronting our  party as opportunity to make a difference and  work hard as good ambassadors of this party to sustain and promote the good will of Ogbeni Rauf Aregbesola.
"It is clear that the over seven years experience of dynamic leadership of APC in the state has exposed the corruption -riddeen administration of opposition party in the past,  hence,  the need to prevent them from coming back to the saddle.
Meanwhile, the  Osun State Commissioner for Local Government and Chieftaincy Affairs, Hon. Kolapo Alimi in his remarks charged youth on good conduct and exhibit habits that will further promote good governance as institutionalised by Aregbesola's style of administration.
Alimi said, Governor Rauf Aregbesola has performed excellently well on education which has yielded positive result on West African Exmanation Council WAEC in the State.
According to him "students' performance in West Africa Examination Council in 2006 indicated that 37,428 candidates sat for WASCE examination, 4,085 passed with five credits including Mathematics and English Language. He went down memory lane stating that in 2007, 36,171 sat for the examination, only 2,483 passed. In 2008, 37, 715 sat for the examination, only 3,813 passed.
He said further that in "2010, 43, 216 that sat for the examination, 6, 777 passed including Mathematics and English Language, in (2011) 53, 293 and 11, 672 passed,  in (2012), 51, 463 sat while 11,431 passed,  in (2013) 47, 009 sat for the examination and 9,654 passed, in (2014) 47, 686 sat while 8, 844 passed".
He added that 12, 171  accident victims had been rescued by the state emergency ambulance service known as O'Ambulance, in the last  four years among other achievements.
Also, a parliamentarian in one of the local governments in the state,   Hon Rasheed Raji Ropo enunciated  that the PYF embarked on the constructive consultations of all  disgruntled but progressive leaders in the state towards a smooth transition in 2018.
Ropo dufurther said that the forum plays a Mediative role to all existing and feuding political groups in the state towards a progressive transition of the present government.
"Other cardinal roles of PYF is reconciliation of all individuals and groups who are yet to confirm with ethos and principles of progressive tendencies.
"Our mandate includes the strategic formulation of  a best possible approach to sustain the present legacy of Governor Aregbesola in the coming gubernatorial election slated  for September 2018".
Earlier, His Royal Highness, Oba Abdulwahab Adedotun Bibiire, Orangun of Ila during a courtesy visit by the group to his palace  urged the youth to promote peace and harmony in the state.
He called all the party members to continue to support Ogbeni Rauf Aregbesola on his efforts to transform the state to make it a cynosure of all eyes.