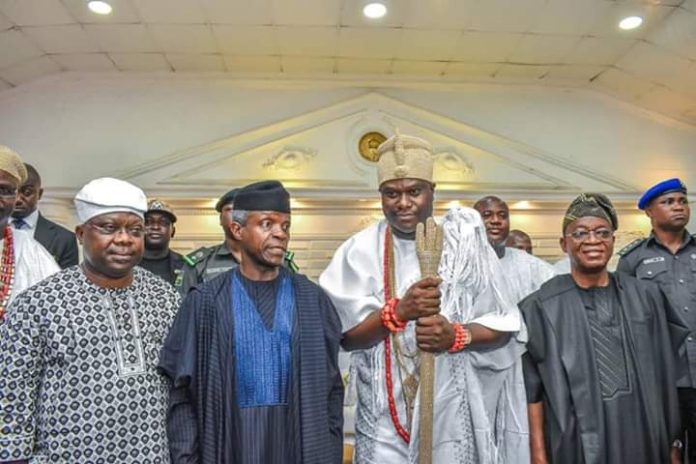 Arole Oduduwa and Ooni of Ife, Ooni Adeyeye Enitan Ogunwusi, Ojaja II has called on the President Muhammadu Buhari led Federal Government to intensify efforts to enhance the status of Ile Ife, as the cradle of the black race.
Ooni Ogunwusi who is the Co-Chairman of the National Council of Traditional Rulers of Nigeria, made the call on Wednesday while receiving the Vice President of Nigeria, Professor Yemi Osinbajo who paid him a courtesy visit at his Ile-Oodua Palace, Ile Ife.
The African foremost monarch commended the Federal Government for not neglecting the ancient town, but also urged it to do more to enhance the status of Ile Ife.
"We are grateful for laudable projects like the channelization project embarked upon by the Federal Government through the Presidential Ecological fund, among other projects in Ife.
"However, we want the government to do more in terms of infrastructural development". Ooni said
While acknowledging the good representation given to the Yoruba nation at the national level by Professor Osinbajo as the country's Vice President, Ooni said he as a father is proud of a humble and well-behaved son like him.
In his response, Professor Yemi Osinbajo assured the monarch that the town and indeed the entire Yorubaland will not be left behind in the Muhammadu Buhari's administration.
The Vice President who was flanked by the Governor of Osun State, Alhaji Gboyega Oyetola and a former Deputy Governor of Osun State, Senator Iyiola Omisore among others, described Ooni's life as a reflection of God's greatness saying his relationship with the frontline monarch is agelong.
"Kabiyesi and I have been together for long and since I have known Kabiyesi, he has always been for the good of the Yoruba and a better Nigeria just like myself and other well meaning patriots.
"I am for the progress of the Yoruba and this is also the stance of the Buhari led-government. We must uphold the good works of our past leaders like the Late Obafemi Awolowo, Ooni Aderemi and Olubuse as well as others who did their best for this noble race."
Some of the places visited by the Vice President received by large number of people waited to welcome includes The ancient Oja Ife market at Ilode, The popular Oja Titun market at Odo Ogbe, The ongoing Channelization Project at Onireke, The Hausa Community at Sabo, and The Betterlife Market at Modakeke.