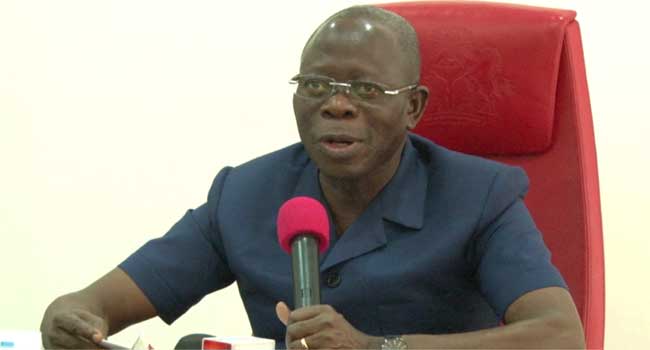 National chairman of the All Progressives Congress (APC), Adams Oshiomhole, has vowed that the party will definitely impeach Senate President Bukola Saraki.
The APC chairman  while briefing  Journalists at a press conference in Abuja on Friday, also claimed that the party will work hard to ensure that Saraki's political dynasty is destroyed it,
He also accused Saraki of anti-party activities while in the APC and of intentionally delaying the passage of the 2018 budget, to frustrate the efforts of President Muhammadu Buhari's administration to develop critical infrastructure in the country.
"He (Saraki) failed to understand that the Nigeria national project is more complicated and is not that easy. He will not only be impeached, we will work hard to have him defeated as a senator in his own senatorial zone come 2019."
"The people of Kwara state are fed up with Saraki and we are fed up with Bukola… Saraki will not be the first to be impeached and I doubt if he is going to be the last but definitely he will be impeached according to law and according to the democratic norms , the only way senator Saraki can avoid impeachment is for him to do what is honourable, which again leads to the issue of character," he said.