Almost a year after the exit of Olori Wuraola,His imperial Majesty Oba Adeyeye Enitan Ogunwusi  has unveiled a new queen.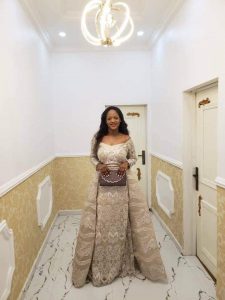 She is Evangelist Shilekunola Morenike, Naomi,  Founder/President of En-Heralds  an interdenominational ministry based in Akure, Ondo state.
She reportedly began her ministry when she turned eighteen and became a full-time evangelist in October 2011.
Releasing  photos of the queen on his verified Instagram account, Ooni said: "I waited patiently upon the Almighty the King of kings, he eventually did it in the midst of many trials. Shilekunola, Moronke, Naomi; the greatest Arsenal you can apply on this highly revered throne with many rules and regulations in the midst of undiluted tradition, heritage and culture is the "Fear Of God In You", which is the beginning of your wisdom on this throne of Oduduwa. You are welcome home my beautiful and adorable queen. #OoniOfIfe #Otisese"