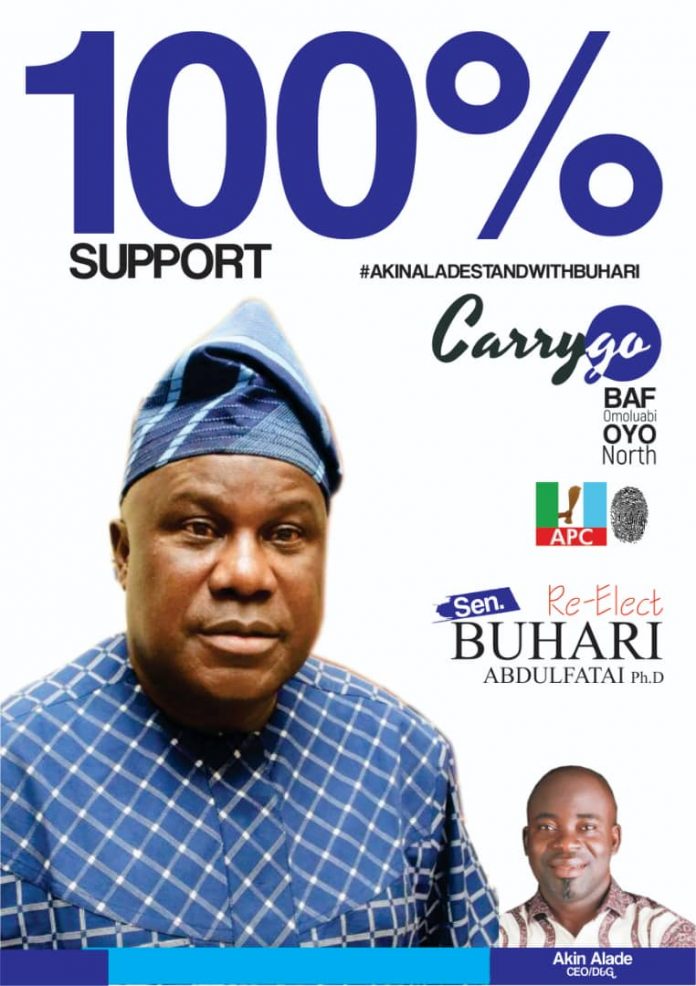 The Ogbomoso Young Professionals Forum has drummed support for the re-election bid of All Progressives Congress Senator representing Oyo central Senatorial district in the upper chamber, Senator AbdulFatai Buhari, PhD
The youths claimed it became imperative to show their support for the Senator re-election bid due to his impact on the people of Ogbomoso since he became the representative of the axis in the National Assembly.
In a statement issued by the chairman of the Young professionals, Akin Alade said Senator Buhari has contributed to the development of the community from the days he was member if House if Representatives.
He maintained that the people of Ogbomosho need to re-elect somebody like Senator Buhari for more development to come to the axis in Oyo state.
Akin Alade also stressed that the senator has been able to bridge gap between the old and new generation in Oyo central senatorial district.
The renowned journalist from Ogbomosho added that Senator Buhari has provided job for the people of the state, opining that his re-election would be another opportunity for the people of Ogbomosho.
He said, "On behalf of Ogbomosho Young Professionals Forum, we want to show our massive support for Senator AbdulFatai Buhari re-election bid for his contributions in bringing development to Ogbomosho.
"There is no time Senator Buhari does not contribute in the National Assembly and that's why he has been able to being dividends of democracy to Oyo state.
"It is highly time we start reelecting somebody like him, because if we give him the opportunity again, he is going to do more than what he has done in his first term.
"While he was in Rep, he performed very well and now that he is in Senate, he is doing the same thing.
"This is a man that has bridged the gap between the old and the new generation in Ogbomosho. He is a man that love young generation and he want them to succeed him, that's why he has appointed most of the youth of Ogbomosho to his campaign team".
Akin Alade however called on the people of Ogbomosho especially Iseyin people to vote enmass for the candidate.
"I want to use this opportunity to appeal to the people of Ogbomosho to give Senator Buhari their full backing and give him another chance.
"I also want to appreciate the Oke-Ogun people particularly Iseyin for their massive support for Senator Buhari in 2015. Let's do it for him again in 2019".