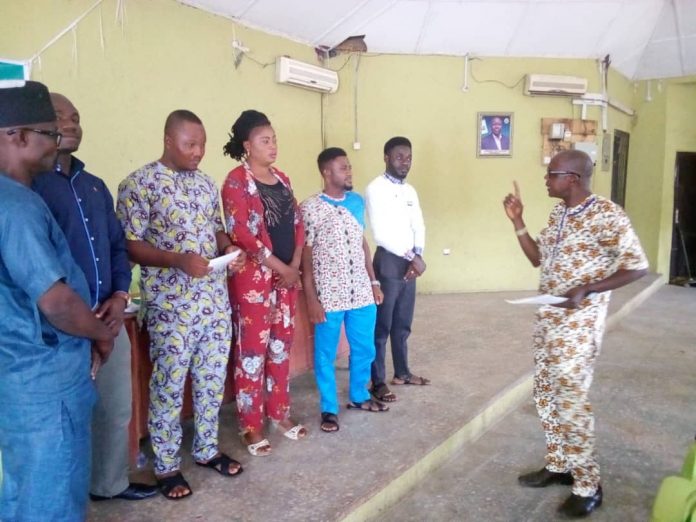 The Ogun State chapter of Online Media Practitioners Association of Nigeria (OMPAN) was today officially inaugurated at Press house, Iwe Iroyin in Abeokuta, Ogun State.
The epoch making event was supervised and coordinated by the Deputy National President, Comrade Peter Jones in company of the Ogun State National Union of Journalists (NUJ) Chairman, Comrade Wole Shokunbi.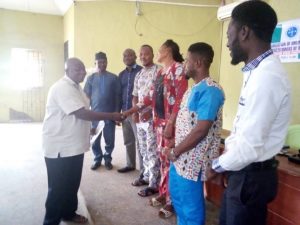 iThe host, Ogun NUJ chairman in his welcome address, congratulated all members and the newly sworn-in inaugural State excos of the association for the epoch making event while urging all members especially the newly inaugurated executive members to remain competent, united and transparent in all their dealings and professional activities in line with the goals of the professional body, especially in the state.
In his opening remarks, the Deputy National chairman of OMPAN, Comrade Peter Jones clarified that the association isn't and shouldn't be seen as a union but a group of professionals loyal to the parent body NUJ, particularly in the state and urged all members to remain strictly professional in their activities devoid of personal interests and other political undertones.
He also congratulated the newly "electively – selected"steering committee as interim excos saddled with the responsibility of managing the affairs of the Association in the state for the next 12 months before another General election is to be held amongst the members.
Subsequently, in his inaugural speech, the state Exco chairman, Comrade Kayode Akin – Samuel representing Falcon Times, thanked the NUJ chairman and the Deputy National president of the association for officially constituting the body in the state while charging his fellow Executive members and other members present to be cooperative and work collectively as a team towards moving the association forward, especially in the state.
Other newly constituted State officials include:
1. Kayode Akin-Samuel – (Falcon Times) Chairman
2. Michael Adesanya (City Voice) – Vice Chairman
3. Michael-Azeez Ogunsiji (Saharaweekly) – Secretary
4. John Izabi (Newsflakes) – PRO
5. Shola Ajibike (Gateway mail) – Treasurer
6. Adejola Crown (Tropic Reporters) – Welfare officer
7. Sunkanmi Akinlotan (Platform Times) – Asst. Secretary
8. Gbenga Oladipupo – (Awikonko) _ Fin.Sec
Other members present at the event also include Sanusi Lateef (News world prime), Abiodun Lawal (Ogun today) and Nifemi Gbangbayan (Tropic reporters).
The Online Media Practitioners Association of Nigeria (OMPAN) is a registered organization recognized by the Nigeria Union of Journalists (NUJ), regulating and coordinating the activities of Online News brands, publishers and Reporters in Nigeria excluding bloggers with a view to sanitizing and maintaining the standards of Digital journalism in line with international best practice.