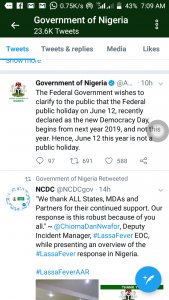 Recognizing June 12  as a democracy day will take effect from from 2019 when the date will be observed as public holiday says the Federal government 
In a tweet on Friday, the Federal Government said while it will not be marked this year, June 12 "in future years will replace May 29th as a national public holiday in celebration of Nigeria Democracy Day."
The President had made the declaration on Wednesday, in honour of the late businessman and politician, Moshood Abiola, who ran for presidency on June 12, 1993.
He also conferred a posthumous GCFR title on him as the presumed winner of the election.
There have been questions regarding whether or not there will be a federal government public holiday on June 12, 2018.