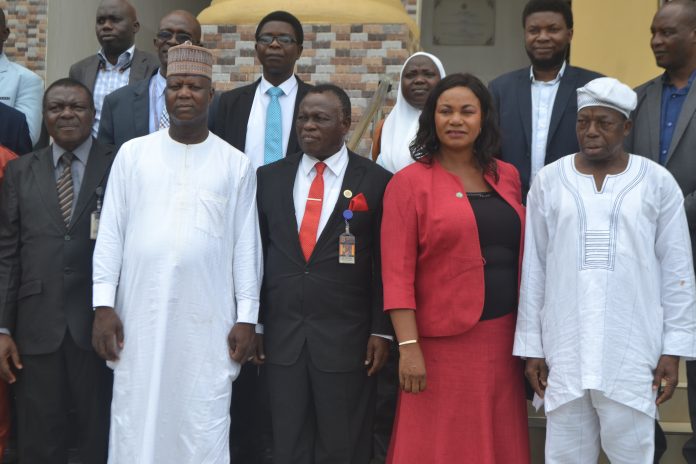 Prof. Ekundayo Alao, the Vice Chancellor of the Adeleke University, Ede, on Tuesday said that the Nigerian situation does not encourage Science and Scientist to thrive.
Alao made this remark during the opening ceremony of Third Annual Zonal Symposium of the Nigerian Society for Microbiology, organised by the South West Zone of the society at the Adeleke University, Ede, Osun from May 7 to 9, 2019
"The condition in Nigeria does not encourage Science and Scientists' work. Nigeria is not a place to be a scientist.
"All the research, proposals and papers written several years, that can solve the problems of this country are not used or even thrown into the trash bin.
"Nigerian microbiologists have worked on preventive measures, but their efforts and their works do not get recognised because they don't get to the right quarters.
He said that no amount of papers presented by scholars are allowed to get Aso Rock, saying "somewhere and somehow, somebody will block it from reaching the authorities."
He, however, said though Nigerian scientists were trying, but the times are not the best times for Nigerian scientists to operate, stating "but Nigerian researches are being used abroad in places like USA and Moscow."
The Theme of the Symposium is "Harnessing Microbia Potentials for Sustainable Development."
He said that Nigerian scientists should align with their foreign counterparts and move from curative to preventive research.
.The VC said scientists in advance countries don't wait for outbreaks of infections or diseases before looking for cures, but are always pro-active, doing research to prevent infections and diseases from breaking.
"What is termed as mysterious death could be stopped with research by microbiologists, but these scientists are not given the desired recognition.
"I will just implore you (microbiologist) to keep on doing your work and keep trying because without you, humans will go into extinction," he said.
In his keynote address, Dr Daniel Olukoya, the General Overseer of Mountain of Fire and Miracle Ministries (MFM), who is also a microbiologist, said microbes (micro-organisms), which are created by God can be harnessed to find cures to diseases and boost human development.
Olukoya, who was represented by the VC of Mountain Top University, Prof. Ayoolabi Elijah, was speaking on the theme of the symposium "Harnessing Microbial Potentials for Sustainable Development".
He related how microbes were co-created with living things, citing scientific research and theology, equally stating that microbes are weapons in the hands of God for human advancement and punishment.
Prof. Olubukola Oyawoye, the Local Organising Committee Chairperson of the symposium, said microorganisms are innocent and if used positively they can advance human existence, but if wrongly used can be agents of biological warfare.
She said that
Oyawoye said like her mentor told her "the future of the country lies in the hands of scientists, whereby urging microbiologists to harness the potentials in microbial to advance the development of the country.
Among the South-West Institutions represented at the Symposium are host Adeleke University, Prescious Stone, Babcock, Elishade and Hiltop.
While personalities present at the event include Prof.Ahmad Bello Yerima, National President of the society from Federal University, Dutse, Jigawa, Dr Kolawole Taiwo, Rector Federal Polytechnic, Ede and Prof. Ayoolabi Elijah, Mountain Top University.
Speaking on the event, Yerima, who welcomed the participants to occasion, said that the role a Microbiologist could not be over emphacised.
"I want to congratulate Adeleke University and members for the hosting of this edition of the event," he said.
He assured that the society will continue to grow in leaps and bounds year in , year out.