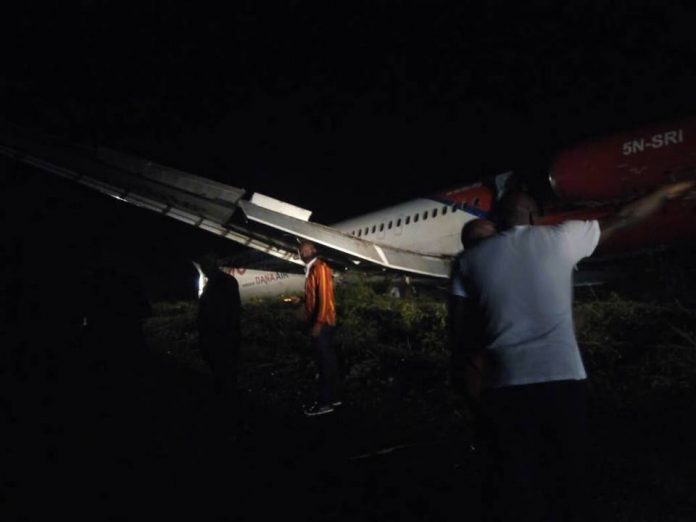 The Accident Investigation Bureau (AIB) has commenced investigation into the Dana Air incident, which occurred on Tuesday when the aircraft overshoot the Port Harcourt Airport runway.
The investigation of the incident is in accordance to ICAO Annex 13, just as the Nigerian Civil Aviation Authority (NCAA) has tightened safety oversight over the operator. The actions of the two aviation agencies were disclosed on Wednesday through an official statement by James Odaudu, the Deputy Director, Press & Public Affairs to the Minister of State for Aviation, Senator Hadi Sirika.
The statement titled: Dana Airlines Accident At The Port Harcourt Airport, stated that an aircraft Operated by Dana Airlines was involved in an accident on February 22nd , 2018 at the Port Harcourt International Airport. It added that the Aircraft, with the following details; 5N-SRI, Flight Number: 0348, Type: MD 83, Souls: 54 including 05 Crew landed at the Port Harcourt Runway 21 and OVERRAN the Runway at 1751 UTC.
Indicating that there was heavy rain, the statement further informed that all onboard were evacuated safely with no reported casualties. It said, "The Airport was briefly closed for Safety reasons and reopened after proper assessment this morning. Damage to Aircraft: Substantial with damage to ground Navigation equipment".
But the ministry pointed out that efforts are in place to continuously enhance safety and security in the industry in accordance with the reformation agenda of President Muhammadu Buhari-led administration for the aviation sector. It further said, "The Ministry sympathises with the passengers on the aircraft over the traumatic experience and assures that government will not abdicate on its commitment to the safety and security of lives and property in the Nigerian airspace."
Dana Air on Tuesday, shortly after the incident confirmed that "On Tuesday, 20th February, 2018, one of our aircraft operating Abuja​-Port Harcourt skidded off​ the runway ​at​ the Port Harcourt International Airport as a result of ​very stormy weather and severe winds upon landing" .
The statement, signed by the CEO, Dana Airlines, Jacky Hathiramani stated that: "Thankfully there were no casualties and all our passengers and crew on board were safely disembarked with the timely response of the ground emergency services. We are grateful for swift reaction of the emergency response teams and the safe evacuation of all on board.
"We commend our pilots who were able to navigate the aircraft under these circumstances and to bring all the precious lives of our passengers and crew to safety", Hathiramani said. The airline had however, reassured their guests that their safety and comfort remain the airline's top priority.