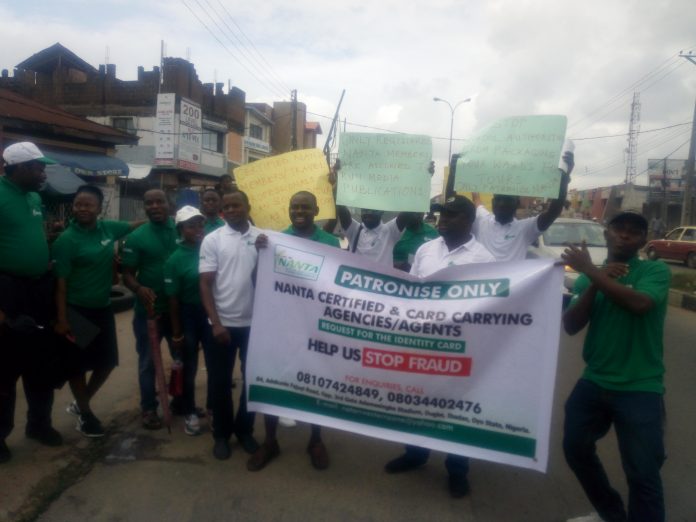 National Association of Nigeria Travel Agency NANTA on Wednesday in Ibadan stage a sensitization rally to enlighten the public on the need to patronize certified travel agencies when processing travel.
The road walk which was lead by Olatokubo Dagunduro, Zonal vice chairman,  took off at NANTA, zonal office Adamasingba Ibadan passes through Sabo, Mokola, Agodi, Bodija Sango Dugbe J-allen and other areas  in Ibadan metropolis.
It was done in conjunction with Oyo state Ministry of Information, Tourism and Culture and Ministry of Women Affairs .
Dagunduro, in an interactive session with journalists said the essence is to  create awareness and sensitize the public to know  that  truly we are on ground and it's high time we say no to touts who have hijacked our business, its just  for us to orientate people because we have heavy traffic of people who are being defrauded courtesy of travel  services to any part of the world and we want to tell them that  we have  professionals in  travel  industry that can ensure that members of public have the best of service'
"Again we are doing it again to let them know that we have a practitioner identification card which public can demand from anybody who called himself a travel agent or corporate agencies and each of our members are certified and we ensure that they are very knowledgeable to give the best of services"
" Before you even get your ID card, your agency must be a certificate carrying member of the association, and before you become a certificate carrying member  we have an entry level,  you must have undergone a lot of process from where we will ensure  and ascertain that at least you are  qualified to be our members, we set members on probationary period before we get them activated as our members and we have  our code of conduct and constitutions that guides us , we have ways of dealing with members  that err"
he said the rally will continue in ilorin kwara state capital on Friday and other part of the country later