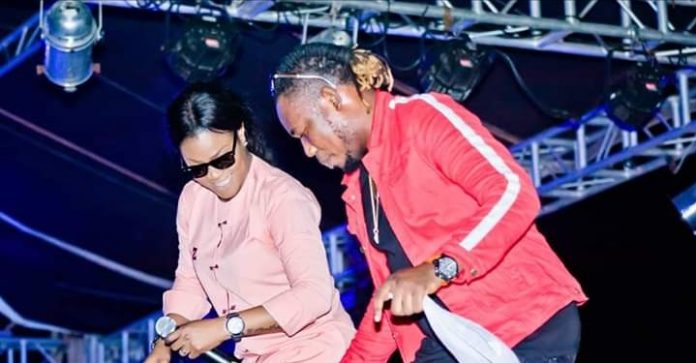 Motherland Beckons once again in its avowed commitment to building and uniting the Continent of Africa through creative arts and entertainment stormed the city of Cotonou last Sunday, 20th of January with One Benin Fiesta.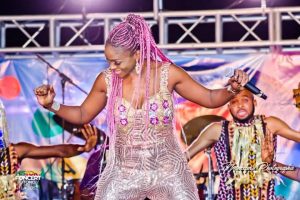 One Benin Fiesta also tagged "Cotonou Meets Lagos" is an amalgamation of the best music stars from Nigeria and Republic of Benin, with a spillover of artists from Togo, Cameroon and other West African Countries.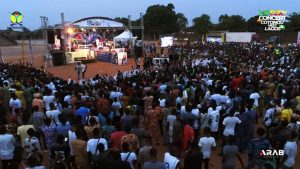 The mega concert of about fifty stars was preceded by a dinner on Saturday 19th of January, tagged Historic Dinner concert at the prestigious 4 star Benin Royal Hotel. This was hosted by the C.E.O of One Benin Fiesta, Mr. Romaric Boco a.k.a. Air Dubal, where Atunda Entertainment serenaded guest with melodious tunes from its massive repertoire of songs.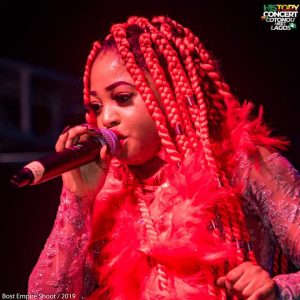 This also afforded the Atunda brands of Anu Lady Ekwe, Olo Omidan Bata, Afe Ayodele Onikoko, Ara Lady Thunder and Poka (Atunda Togo) whetting the appetites of the guest by giving them a little dose of what to expect at the One Benin Fiesta Concert on Sunday.
The dinner also recorded performances from the 13-man Band traditional Gohoun music, led by Adjahooi Junior and Lene's, a Benin damsel of traditional and contemporary music to the admiration and applause of all and sundry.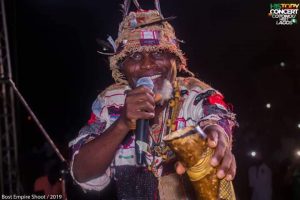 The Motherland Beckons and One Benin Fiesta train moved to the Akpakpa Stadium, Cotonou on Sunday to the warm embrace of about fifty thousand Cotonou Youths. Atunda Entertainment, multi talented young men and ladies who are accustomed to doing the usual things of life in an unusual manner, led by its lead vocalist, Tayo Beckley kicked off the historic mega concert by 6:00pm and entertained with sonorous and danceable tunes to the delight of the Cotonou youngsters.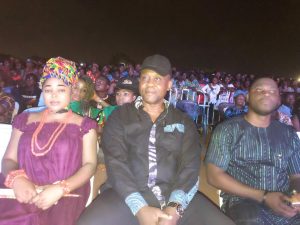 Ara Lady Thunder backed by Atunda Entertainment gave a spectacular performance and virtually won over the crowd with her fiery Sango – like gesticulations and dexterity on the talking drum. Scintillating performances by Afe Ayodele Onikoko, Poka (Atunda Togo), Anu Lady Ekwe and Olo Omidan were interlaced with scores of performances by a coterie of Benin and Nigerian music stars, namely Homeboy Val, Manzo, Akanbi, Jay D, Magistral, Dean Weezi, Master MC (Cameroon), Eldon, Dragomir, Q Dot, Rado, Remi Rash, Vano and delectable Zaynab, the exponent of the soulful tradition Bonojo music amongst others. Also representing Nollywood was Tayo Amokade a.k.a. Ijebu who without any doubt has a large fan base in Benin due to his funny antics and his Ijebu dialect in Yoruba Nollywood films. He was warmly welcomed by the teeming crowd who were obviously delighted by his funny dancing steps and stage anecdotes
The C.E.O of One Benin Fiesta, Romaric Boco gave kudos to his fellow youths for turning up for the concert in their thousands and gave out souvenirs, ranging from T-Shirts, Fez caps, calendars and branded carrier bags to the appreciative crowd.
The President of Motherland Beckons also saluted the Cotonou youths for their massive turn out and reiterated his usual cliché that the only thing that can unite Africa is music and dance, where it obviously has a comparative advantage over every other people of the world. He promised to make the One Benin Fiesta a quarterly affair, with a target of five million Nigerians, visiting Benin in five years, and vice versa.
This he said would be actualized with a travel – now – pay – later proposed deal with Zenith Bank, Nigeria and a correspondent Bank in Benin Republic.