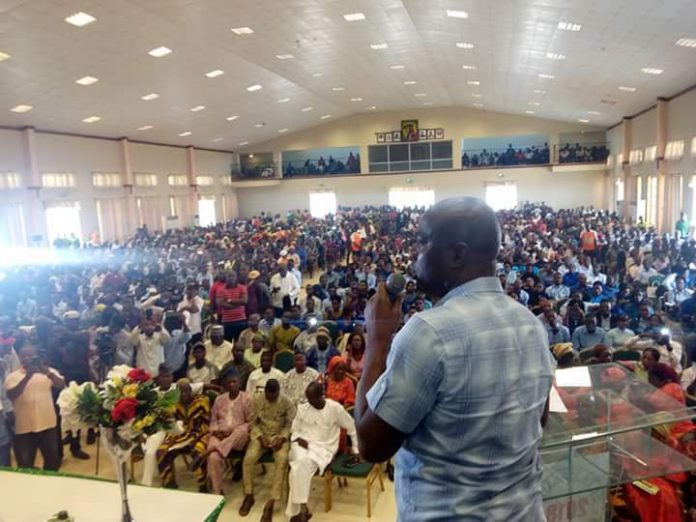 Engr. Seyi Makinde, a Peoples Democratic Party (PDP) governorship aspirant in Oyo state on Tuesday vowed to ensure that up to 12 percent of the budget is allocated to educational development, if elected as the next governor of the state in next year's election.
The Oyo PDP governorship hopeful made the promise yesterday in his speech at the presentation of the  2017/2018 Seyi Makinde Bursary Scheme Award to 2,500 tertiary institution students, which took place at the Emeritus Professor T.O. Ogunlesi Hall of the University College Hospital (UCH), Ibadan.
Earlier in his remarks, Mr. Akin Akindeji, a member of the Seyi Makinde Scholarship Board, revealed that total number of 10,000 students applied for bursary award, out of which 2,500 candidates were shortlisted.
Akindeji revealed further that total amount of N50 million was given as bursary  to the 2,500 students from different tertiary institutions from across the country.
In his speech, Makinde lamented that is it unfortunate that the All Progressives Congress (APC) administration, led by incumbent Governor Abiola Ajimobi, has failed to give proper attention to educational development in the state.
The Oyo PDP governorship aspirant noted that contrary to the advice by UNESCO that at least 26 percent of the budget should be allocated to education,   the Ajimobi's administration has continued to allocate less than 5 percent of the budget to education.
Specifically, Makinde said only 2.5 percent of  the N208 billion 2017 budget was allocated to education, a situation which he said has negatively affected the standard of education in the state.
 He declared that if voted into power next year, his adminstration will implemented "30 pupils per class policy" and build mega schools across the state.
Makinde said: "Let me use this opportunity to reveal the policy pronouncement on what the state of education will look like in Oyo from May 29,2019. From next year, Oyo state will commit minimum of 5 percent of the budget to education. This will this in increased gradually.
"By the fourth year of my administration, the budget allocation to education would have been increased to about 12 percent. We will ensure that teachers are well motivated. We will provide adequate infrastructure in our schools".
Also in his address, Professor Taoheed Adedoja, former Minister of Youths and Sports, who was the chairman of the occasion,  maintained that one of the greatest mistakes successive governments have made in Nigeria was that adequate attention was not given to educational development.
Some of the beneficiaries who spoke with our reporters said the gesture will go a long way in solving part of their challenges in school