Some members of Staff of Ladoke Akintola University LAUTECH Ogbomoso under the aegies of Oyo Workers Forum today stage a peaceful protest against the attitude of government of the state of Osun on the institute
The  however demanded for total withdrawal Osun state government from ownership of the insititution .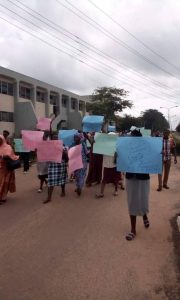 The group who are indegenes of Oyo state  attributed the crisis rocking the institution to poor attitude, financial commitment of government of the state of Osun to the sustainability of the institution jointly owned by Oyo and Osun
During the protest, the workers carried plackards with various inscription "Osun don't destroy the life of our student " Osun state is the problem for LAUTECH" , "Osun state leave LAUTECH alone lautech weeps " Joint ownership is a crime against lautech" "Oyo state must take over lautech " Governor Seyi Makinde please rescue us in LAUTECH , "LAUTECH staff are hungry "No more joint ownership again" , and others.
The protest started from MKO abiola hall where they hold a meeting down to the school main gate to under G .
The forum chairman Chief Adediran Adeniyi laments the attitude of Osun state government towards the ownership of the institution is frustrating and not helping it to grow.
"Since 2013 Osun state have been owing us salary arrears which they have not pay till date, whenever its their turn to pay subventions they will give one excuses or the other at times they beg us to not to downtool till they have money to pay, this we canno longer take Governor seyi makinde should please take over the institition before osun state destroy it
Chairman maintained that the forum have consulted all the stakehokders in oyo State including the traditional rulers, everybody is tired and the only solution is departure.
"We oyo and osun state are working like brothers and sister so they wont have problem if osun state withdraw because university is a universal place, we are not fighting any management or anybody all what we want is oyo to take over lautech"
LAUTECH which was established in 1990/ become property of the two state as a result of state creation during which  osun state was created from Old Oyo state.