Former Minister of Internal Affairs, Senator John Shagaya, died yesterday in a road accident along Langtang-Pankshin road in Plateau State.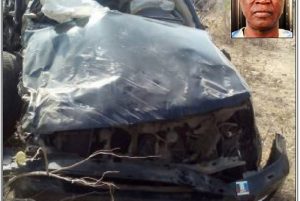 His Orderly and Driver were  also critically injured
A former Chairman of Langtang North Local Government Dan Dandur confirmed his death.
"Shagaya died in a road crash today; we are right now with the body at the Air Force Military Hospital, Jos," Dandur told the News Agency of Nigeria (NAN), in a telephone interview.
Dandur said the 75-year-old retired army general was on his way to Jos from his village in Langtang, when the accident occurred at Amper in Kanke Local Government of the State
President Buhari, in a special statement from the office of his spokesman, Femi Adesina, has offered his heartfelt condolences to the Shagaya family, friends, the Government and people of Plateau State on the painful passing of their illustrious son.
Said Adesina "The President pays tribute to the great Nigerian whose legacies will live on in the patriotic work he did as a military officer, who rose to the position of a General, and a distinguished Senator of the Federal Republic that ably represented the Plateau Southern zone.
"The President affirms that at each step of his distinguished career in national service and politics, General Shagaya brought his deep convictions and discipline to national, regional and community assignments and was ready to always offer his best to the development and stability of the country".