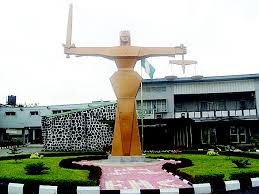 Lagos State Chief Judge, Justice Opeyemi Oke on Monday disclosed that three members of staff of the Lagos State judiciary and a youth corps member arrested for alleged corrupt practices last month would arraigned in court in January
Justice Oke while inaugurating her Commitment Statement at the Igbosere, Ebute Metta and Yaba Magistrate Courts premises said  a tout who has been in the habit of impersonating as a staff of judiciary and defrauding court users will also be arraigned alongside the quartet was
She said the staff had appeared before the Lagos State Judiciary Staff Commission which looked into the matter against them, adding that the incident marked the end of their career in the service.
The CJ further stated that another court registrar would also appear before the Judiciary Service Commission soon for alleged corrupt practices.
Justice Oke said the magistrate the registrar was working with reported that the court official asked a party in a suit to pay him N50,000 to get the court to make an order in his favour.
She said: "We don't want anybody to destroy the Lagos State Judiciary. The judges are fully in support of the fight we are waging against corruption in the system.
"The bar is also determined to fight corruption with us. The members of the bar are the users of the court. They too have promised to report back to us."