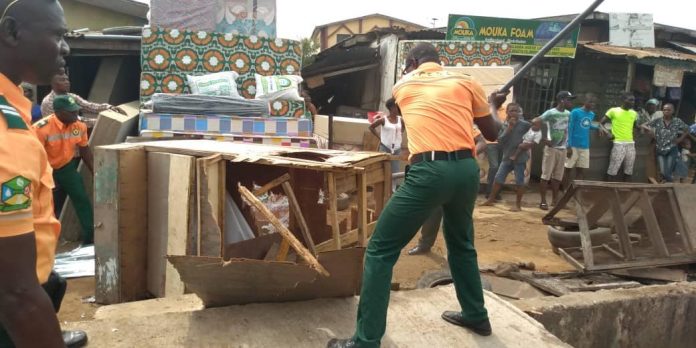 The Lagos State Environmental Sanitation Corps (LAGESC) has reiterated its readiness not only to implement but enforce all the relevant laws aimed at achieving a cleaner, hygienic and aesthetically respondent environment in conformity with the Lagos State Environmental Protection Law 2017.
The Executive Secretary, Lagos State Environmental Sanitation Corps (LAGESC), Mrs. Idowu Mohammed disclosed this today in Oshodi, saying that part of the functions of LAGESC is to monitor and maintain surveillance along highways, streets and public amenities as well as to report regularly any breach of the provisions of the Environmental Laws to the appropriate enforcement authorities.
Mrs. Mohammed stressed that the present administration is passionate about the safety of lives and cleanliness of the environment, hence, has given LAGESC the mandate to effectively clamp down on all violators of environmental sanitation laws in the State in order to adequately protect the environment from abuse.
The Executive Secretary also emphasised the risk associated with neglecting the use of pedestrian bridges, noting that this act not only endangers the pedestrian's life but impedes the free flow of traffic.
She added that the distance from the pedestrian bridges where arrests can be made by LAGESC officers against erring individuals is within the range of 200 metres.
While stressing that street trading consititutes a nuisance and causes traffic gridlocks, Mohammed decried the increase in illegal activities on our major roads including hawking, roadside mechanic workshops, abandoned vehicles, structures built on drainages and sales of all kinds of food on roads/sidewalks.