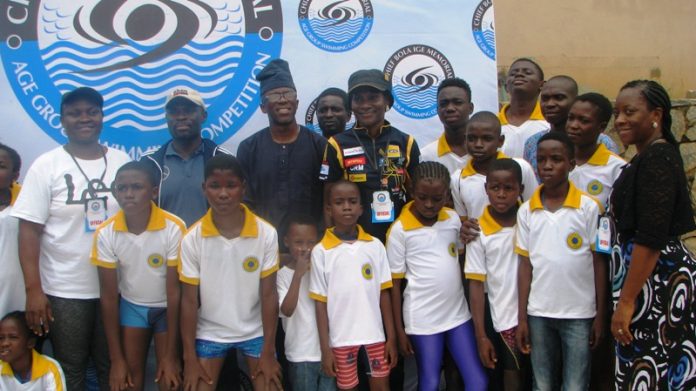 Kayrom Lee Dominate Bola Ige Memorial Swimming Tourney Pupils from Kayrom Lee Swimming Academy has emerged top in swimming competition organized by Oyo State Aquatic Association (OSAA) in collaboration with the Bola Ige family in memory the late sage held over the weekend inside the swimming pool of University of Ibadan.
The tourney tagged "Chief Bola Ige Memorial Age Group Swimming Competition" was designed to scout talents among private/public schools and swimming clubs across the state and to also honour the former Attorney General and Minister of Justice in Nigeria, late Chief Ajibola Ige for his immense contributions to the youths' development of the country.
While presenting his welcome address, Chairman, Oyo State Aquatic Association (OSAA), Arch Muyiwa Ige and first son of the deceased disclosed that the motive behind the competition is to foster inter personal relationship and improve on the spirit of sportsmanship among students and pupils in the state.
The former Commissioner for Land, Physical Planning and Urban Development in the Osun State further expressed that the mission of the association is to promote and ensure effective regulation of aquatic sports through the promotion of competitive swimming, registration of active swimmers, clubs coaches, lifeguards and swimming pools across the state.
Meanwhile, swimmers from Kayrom Lee Swimming Academy dominated the
medals table while International School of IITA, Dolphins Swimming Clubs, Water Skills and Pathfinder College, International School, University of Ibadan, Adamolekun Swimming Club and Olanloye Adekunle Swimming Club gave good account of themselves.
The CEO of Kayrom Lee who is also a principal partner of Federal ministry of Youths and Sport zone one, Ambassador Romoke Ayinde in her reaction after the tourney said the attitude of parents is not favourable to the sport as most parent still don't subscribed to allowing their wards to take to swimming.
"What we do in Kayrom Lee Swimming Academy is to eliminate the phobia
associated with the sport and make swimming attractive to both pupils
and parents  by introducing safety measure through engagement of good
lifeguards and experts trainers. I believe swimming still has a very
future in Nigeria", Ambassador Ayinde who is also member of OSAA
added.
Photo captions: Pupils of Kayrom Lee Swimming Club and Commissioner
for Youths and Sports Oyo State and members of Barrister Abayomi Oke
with Oyo State Aquatic Association (OSAA)
Athletics: 70 Schools To Vie In Lagelu Inter-Secondary Relay Race
More than a thousand students drawn from nearly 70 schools are set to
hit track and jostle for honour in two days athletics event tagged
'Maiden Lagelu Inter-Secondary Relay Race scheduled between 6th and
7th October At the ten lane track of the University of Ibadan.
The competition according to Tunde Olawuwo was designed by an Ibadan based private radio station (Lagelu 96.7 FM) in collaboration with the Federal and Oyo state ministries of youths and sports with view of opening a new vista of opportunities to young athletes with great potentials in sprints.
The event would also serve, as a catalyst of enriching the supply chain of the Athletics Federation of Nigeria, and give the students needed exposures.
Speaking ahead of the event, the new Southwest Zonal Coordinator of the federal ministry of youths and sports, Femi Ajao has described the initiative as commendable, while pledging the readiness of the ministry to fully support the event.
According to him, the ministry stands ready to organize a credible competition, while assuring of the full complement of technical officials of the Athletic Federation of Nigeria to ensure credibility.
Similarly, the Oyo state Commissioner for Youths and Sports: Barrister Abayomi Oke lauded Lagelu FM for creating such a viable platform for budding potentials in the state, which hitherto has not been enjoying such opportunities.
As the itinerary stipulates, five major events are listed for competitions, which include 4×100, 4 x 200, 4 x 400 all in male and female categories while mixed and medley races  would also featured.